Working abroad: Brisac Gonzalez
Enthusiasm is the hallmark of this firm's extensive overseas portfolio
It is not what you would call a sustainable foreign policy.
When Edgar Gonzalez and Cécile Brisac won their first overseas commission – the Museum of World Culture in Gothenburg in 1999 – they left London and set up home in Sweden so they could throw themselves into the project.
As a sign of commitment it's hard to beat, but since 90% of their work is overseas it is not an approach they have repeated, not least because they now have two children.
Nevertheless, the same enthusiasm is still evident 12 years later. The couple think nothing of jumping on a plane to go and talk to anyone who calls up sounding legitimate.
While they win most of their work by trawling the Ojeu notices, a proportion also comes from phone inquiries to their 12-strong Bermondsey office.
That first 12,000sq m project – which they won while moonlighting from their day jobs – led to the foundation of Brisac Gonzalez.
"We were shortlisted and won some money which allowed us to take time off from our day jobs," recalls Gonzalez.
"Then we won. We did six months' design work in London and moved to Gothenburg for two-and-a-half years. That was our model at the time. We thought: if we sit in London and the consultants are in Sweden we'll miss the boat."
Such cultural projects make up most of their portfolio, something many small practices would die for, though Gonzalez rather hankers after a bit of commercial work to make their name in the UK.
"Abroad, people are willing to look at small practices and take the risk but the public work that exists in the UK tends to bypass an office of our size," he says.
"We do a little bit of research on where might be interesting to work but we don't have a specialist aggressively targeting things.
"On my to-do list there's a bunch of contacts who have offered to represent us in China but there are higher priorities. You can get burnt in emerging markets so we tread lightly. People have asked us to do a lot of work up-front for free in the Middle East but we have managed to avoid it.
"A colleague in France recommended Libya a while ago but my life has been defined by a dictator [Castro] so I have a funny feeling about dictators. In the office we think there are some places to work and some not to. If you can work in places that don't raise these issues it makes it much easier and we are fortunate enough not to have had to make those decisions."
Instead their projects are concentrated in Europe, which reduces many of the risks and ethical dilemmas ("though Julian Assange might disagree about Scandinavia," jokes Gonzalez).
It also helps that between them their team can speak at least eight European languages. They have just taken on a Danish speaker to help them work up their shortlisted plans for a rock museum in Roskilde (they are the only UK firm on the five-strong shortlist, which also includes MVRDV).
Being able to speak the language makes a big difference, but it is also important to understand the differences in planning culture.
"We have learnt by losing competitions that in France you are given a thick document that the client has spent a serious amount of money on and it's ludicrous for the architect to say, 'but what you really want is this'.
"In the UK and Scandinavia we develop the brief with the client. In Roskilde the client gave us a hand-drawn masterplan with a circle where they wanted the building.
"But in France they know the orientation and the room sizes and if you fiddle with the brief too much you will be off the job. It's much more about exterior decoration."
This still leaves plenty of scope for the architect, as the practice's Le Prisme multi-purpose hall in Aurillac demonstrates with its 25,000 glass bricks through which coloured lights shine.
The architect has been asked back by the client to design a small storage depot next door and has reprised the detailing, this time using coloured metal panels that appear to be opening like buds.
Other current projects include the £7 million Pajol sports centre in a poor area of central Paris which makes a virtue of its location, on a steep slope between a road and a railway goods yard, by creating a public terrace overlooking a new park beyond the railway.
That project impressed a developer who asked them to consider designing a 5,000-seat arena in Georgia. They also have leads in Sweden, Germany and Brazil.
Latin America – and Panama in particular – is on their wish list, but somewhere Gonzalez is not ready to work yet is his birthplace, Cuba, which he left aged eight when his father sought political asylum for the family in New York.
"I would love to build there one day," he said. But perhaps not while there is a dictator in charge.
Brisac Gonzalez's projects abroad
Copenhagen, Denmark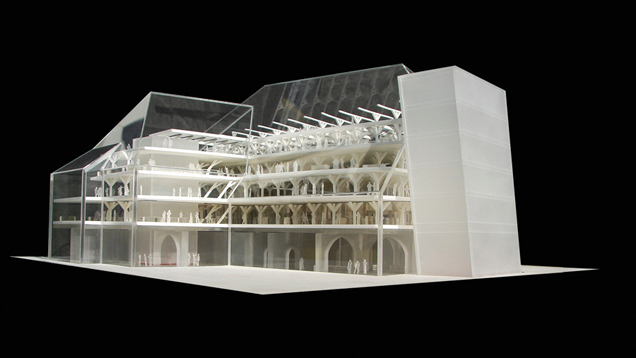 Project Museum of Copenhagen
Brief The practice has completed design proposals for a new 8,000sq m home for the museum in a former 17th century brewery. All interventions are removable and include "pod"exhibition rooms and circulation spaces which will be less closely temperature-controlled. The top floor features a looped "technical catwalk" which – when it is not being used to light performances on the floor below – is open for visitors to take in the views.
Moscow, Russia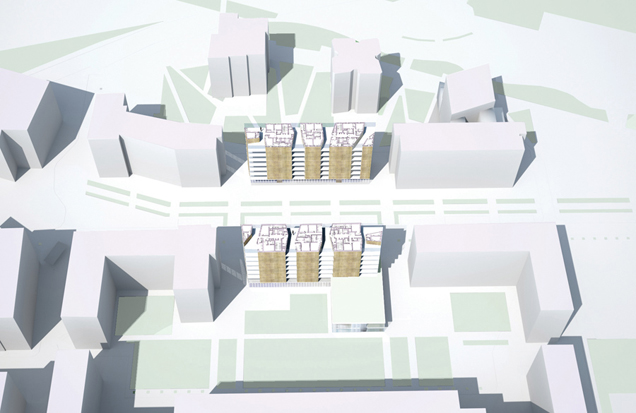 Project Park City housing
Brief Part of a 15ha develop-ment masterplanned by KPF, this £18 million, 14,300sq m residential project was put on hold in 2008 but the practice is confident it will be revived. The brief asked for a fixed number of two and three bed flats, but Brisac Gonzalez took a playful approach to create the only open-plan flats in the area. Each flat is dual aspect with views over the river and city centre.
Completion date On hold
Six-Fours-les-Plages, France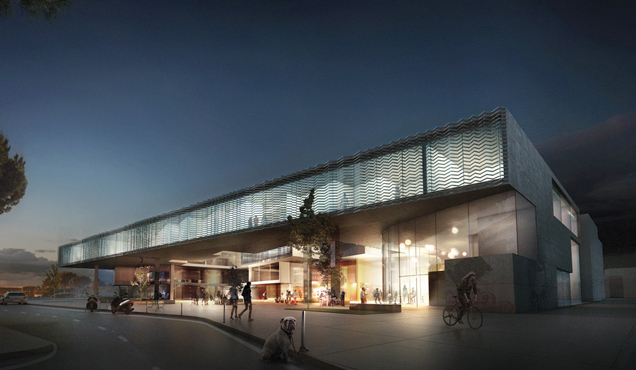 Project Music school and performance hall
Brief Shortlisted in a £12 million competition to design a music and dance school with three performance halls for this town near Toulon. The competition was won last year by a local firm. Brisac Gonzalez's design used lots of exposed concrete because France makes this so well.
Paris, France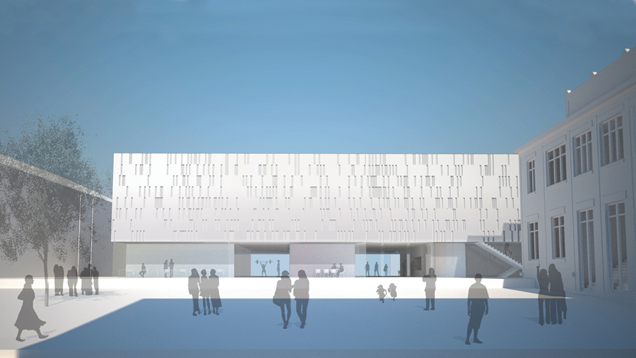 Project Pajol Sports Centre
Brief This £7 million project for the City of Paris was won through a competition advertised in Ojeu in 2007. The 4,000sq m project, which includes a martial arts dojo, exercise area and gym for young people, is in the 18th arrondissement of central Paris. Gonzalez said it was refreshing to work on a project that invested in a run-down area of the capital.
Completion date October 2011
Aurillac, France

Project Le Prisme storage depot
Brief Essentially two "dumb boxes" of 5,000sq m and 500sq m, these transcend their typology thanks to Brisac Gonzalez's facade treatments. The £8 million Le Prisme hall was completed in 2007 and so pleased the regional government client that it made a repeat commission: the £500,000 storage depot next door. This is about to go to tender and is due to be completed next year. Its colourful facade echoes that of its big sister but in metal rather than glass. It consists of coloured geometric metal panels that appear to be at different stages of opening, like the petals of a bud.
Completion date 2012