WHAT'S IN IT?

In the daily tablet edition, you'll find everything you'd expect from BD: exclusive Building Studies and First Look projects, all the latest news, in-depth analysis and profiles of leading architectural figures.
But you'll also find lots of extra project images, with photography, plans and elevations you can blow up full-size on your screen for a closer look. You can bookmark your favourite pieces, download related articles, add comments and get involved in the weekly debate or share stories via Twitter, Facebook and email.
The tablet edition is updated daily, so you don't need to wait for a print edition to arrive at the office to get the best of BD.
HOW TO GET IT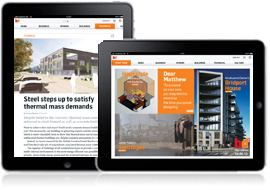 We think this is the best architectural app out there. And we're giving you a 14 free trial to see for yourself. After that you will be invited to subscribe . Your subscription will help us to invest in the app to make it even better.
Already a subscriber? You can get full access straight away by visiting app.bdonline.co.uk
directly from your device. Just make sure you've activated your account online

WHY CAN'T I FIND THE BD TABLET APP IN THE APPLE STORE?

Well, producing an app is expensive and Apple takes a big cut of all sales. For a small publication like BD, this can make it difficult to sustain an app and make it free to subscribers. Plus we want all tablet users to be able to read BD, not just those with iPads.
Our tablet app is built on an HTML5 platform, which means we can keep improving and adapting it to keep up with innovations in tablet technology. We're currently working to make the app avaiable on more tablet devices.