Tonkin Liu's Shi Ling Bridge
A new "shell lace" structural technique was used to create a conceptual design of a 120m-long steel pedestrian bridge in China.
Project Shi Ling Bridge
Location Hypothetical scheme for Shi Ling stone forest, Yunnan Province, China
Architect Tonkin Liu
Structural engineer Arup
Model maker Millennium Models
A fascination with the ingenuity of seashells and the right competition brief created an opportunity for Tonkin Liu to develop a new structural technique – shell lace structure, which it has used to create a conceptual design of a 120m-long steel pedestrian bridge at Shi Ling stone forest in China.
A laser-cut model of the scheme forms the centrepiece of the architecture room at the Royal Academy's Summer Exhibition.
The structural and fabrication process was developed in collaboration with Arup and combines digital modelling and digital analysis with laser-cutting fabrication to create lightweight self-supporting structures from flat sheet materials – ideally steel.
Arup director Ed Clark, who developed the structural analysis of the technique, says: "Shell lace structure seeks to develop intelligent forms that respond to multiple design and construction parameters. The result is a new breed of single surface structure."
A 2009 competition to design seafront shelters for Bexhill-on-Sea was the springboard the practice needed to develop its concept.
Seashells were the inspiration. "Seashells gain strength from curvilinear geometry, growing in thin layers over time, and only where they need to," says Mike Tonkin.
"As flamboyant and daring as Gothic vaults, shells nevertheless demonstrate optimum structural principles."
Tonkin Liu took the properties of a shell – its three-dimensional curvature, its locked-in stiffness and its corrugated form and surface – to create a plasticine mould of the shelter.
The bridge project is the result of the technique being refined over five subsequent projects, some conceptual and some built.
Developing the bridge structure
Tonkin Liu and Arup director Ed Clark's team were commissioned to design (using the shell lace process) an ambitious concept for a bridge of the future to be included in an exhibition, Bridge Stories: 60 Years of Bridges, held in a gallery space at Arup's Fitzroy Street office earlier this year.
The Shi Ling bridge was named after the Shi Ling stone forest in the Yunnan Province of China, where it would provide high-level views of the vast limestone karst landscape.
Shell lace structures are optimised through curvature, corrugations and contortion techniques learnt from 500 million years of seashell evolution.
The structure cannot be folded out of a continuous sheet as with origami, but relies upon the locked-in stiffness of joined curving forms. The process combines principles from nature with simple tailoring and laser-cutting technology to create a new, cost-effective structural technique.
The Shi Ling pedestrian and cycle bridge, which spans 85m is designed to use 16mm-thick steel welded together. Along three separate routes, pairs of triangular torsion beams transform in section into asymmetrical vaulted arches which rise before descending through the deck of the bridge to culminate in a composite twisting column.
Varying sized perforations are used to minimise weight by removing material in areas of low stress. They also bring a level of lace-like transparency to the curving surfaces to catch light, display their lightness, and express their sculptural form.
Steel was chosen for the structure because of its high strength to weight ratio, ease of joining plates by welding and the ease with which it can be laser cut and rolled.
The process can be equally applied to other materials for structures of different scales and typologies.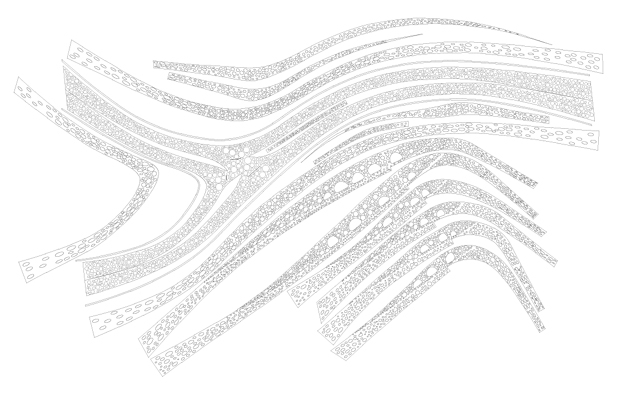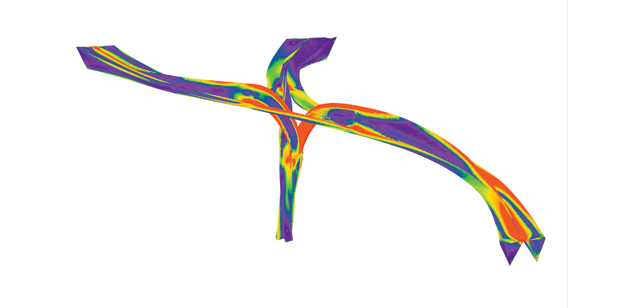 The structural Engineers' view
Arup and Tonkin Liu have developed the shell lace design concept to fulfil the requirements for strength, aesthetic qualities and buildability. Curvature and folding of flat plates adds stiffness to the form, allowing the plate thickness to be reduced to a minimum.
The process begins with Tonkin Liu building a physical model in plasticine and paper to define the basic form. This form is then modelled in 3D software and tweaked so that it can be created from a collection of developable surfaces (ie ones that can be cut from a flat sheet of material).
This 3D model is then exported into Arup's general structural analysis software, in which a standard finite element model is developed to analyse the stresses and define the structural requirements. Then follows a series of iterations where the geometry is adjusted by the architect and engineer to optimise the structural performance while maintaining the desired aesthetic quality.
When the geometry has been fixed the plate thicknesses can be minimised and material removed by perforating in areas of low stress. The Rhino software plug-in Grasshopper is used to automate the process of removing material based on the output of the structural analysis.
The result is a geometrically stiff and ultra-lightweight sculptural form, which can still be broken down into a collection of flat plates. This allows simple and economical fabrication without any sacrifice of geometric complexity.
Ed Clark is an Arup director and Alex Reddihough is a structural engineer at Arup.