Surface Design Show product preview
Here are some of the products that will be exhibited at the Surface Design Show to be held February 15-17 at the Business Design Centre, Islington.
New Franco Belge
Product Carpet
Show stand Belgium Pavilion 346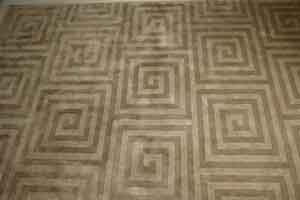 Flanders-based New Franco Belge is one of the few carpet manufacturers that use linen in their woven material. Exhibiting for the first time at the Surface Design Show the company is taking the opportunity to also launch three new ranges.
These are the Mercer Collection, which uses a combination of linen and viscose in its pile; the Madison Collection, which uses a 100% wool pile; and the Montreaux Collection which incorporates a mix of high and low piles.
New Franco Belge also produces 23 other standard ranges which come in rolls of varying widths – from 700mm to 4.5m.
The company was founded in 1937 in Wevelgem near Courtrai. It is the oldest privately owned weaving mill in the Flanders area of Belgium and still uses traditional jacquard looms.
www.newfrancobelge.be
Sally Angharad Designs
Product Distressed wallpaper
Show stand Inspiration Centre 146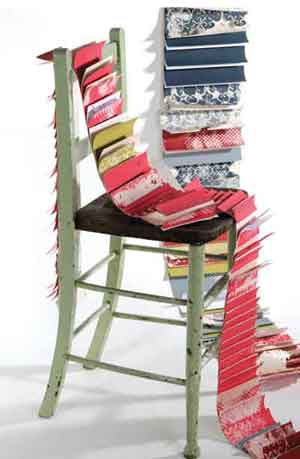 Sally Angharad specialises in making bespoke three-dimensional wallpaper by hand. She recently exhibited her distressed wallpaper coverings at her MA show, having studied textiles at the University of Huddersfield.
It takes Angharad between four to six weeks to make just one 3m-long x 400mm-wide roll of wallpaper. The process involves first creating a design, then screenprinting it on to paper that has been distressed using a sanding technique Angharad developed herself. The rolls of paper are then cut to size. Angharad sews all the elements together using a sewing machine and the papers are stitched on to a backing creating a layered or three-dimensional effect.
Her newest collection, which will be exhibited at the show, was inspired by a trip to Venice. From the photographs she took, Angharad has extracted patterns she liked and turned these into designs.
She is also hoping to collaborate with a laminating company to create a more commercial product. This would involve trapping the bespoke distressed papers within acrylic blocks and then laminating the blocks into acrylic or glass frames.
www.sallyangharad.com
Beltrami
Product Stoneskin wall cladding
Show stand Belgium Pavilion 346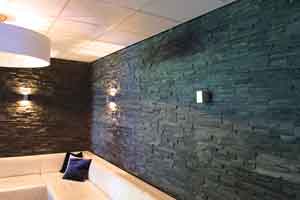 A wall created from strips of stone glued together to create a rugged textured surface sounds as if it should be an exterior cladding material. Indeed the design was originally used for exteriors, but Belgian company Beltrami has adapted it for interiors.
Beltralinea Stoneskin strips are available in four different types of stone – granite, basalt, limestone and quartzite – and six different colours.
The "crust" or outside layer of the stone is sourced from quarries worldwide and the panels are made in China. The strips of stone are glued together using resin with no grout between the joints and are laid in a random pattern creating 150mm-wide x 600mm-long panels ranging in depth from 15 to 35mm.
www.beltrami.co.uk
The Window Film Company
Product Printed window film
Show stand 326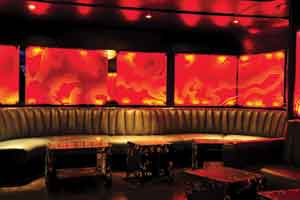 The Window Film Company creates designs that are applied to a wide range of materials including frosted film, coloured translucent film, vinyl, clear window film and wallpaper.
The company's graphics studio computer cuts or prints any pattern required on to the materials which can then be rolled up, and later applied to a window.
www.windowfilm.co.uk
Eluna
Product Recycled glass slabs
Show stand 105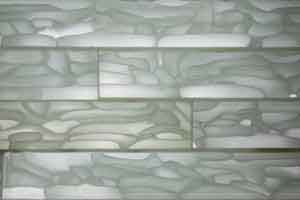 Eluna uses recycled glass to create slabs for wall and floor applications, work surfaces and splash backs. The material can be used for both interiors and exteriors and is produced in a variety of colours, textures and depths.
The company expanded its product range late last year by developing a range of glass bricks that are cut and polished to expose the natural patterning of the glass as it is formed in the kiln.
Additives are not used in the manufacture, its colour being dependent on the choice of glass.
The finished product is scratch, stain and hydro-carbon resistant. The maximum size of the slabs is 3m x 1m and the depth ranges from 100mm to 15mm thick.
These will be on display at the Surface Design Show, and were specified by architect Purcell Miller Tritton as an internal feature glass wall lit by LEDs, in a church in Oxford.
www.eluna.uk.com
For more information on the Surface Design Show, go to www.surfacedesignshow.com