Sergison Bates Architects has created, alongside local architect Liebman Villavecchia, a house nestled within the intimate streets of Cadaqués, Spain
Architect
Sergison Bates Architects/Liebman Villavecchia Arquitectos
Location
Cadaqués, Spain
Completed
November 2011

The picturesque Spanish town of Cadaqués has long been associated with visiting artists, from Salvador Dalí to Pablo Picasso and Joan Miró. Less well known is the town's later association with Catalan architects like José Antonio Coderch.
It is with this post-war tradition of critical regionalism that Sergison Bates has engaged in creating, in association with local architect Liebman Villavecchia, a calm and cultured house nestled within the town's intimate streets.
The house is to be shared by two families, one of them that of practice partner Stephen Bates, and is a replacement for an existing building and neighbouring derelict structure. The new house forms a stepped frontage opening directly onto the street and is closed in on the other three sides; a concealed new courtyard at the rear providing additional daylight to the rear of the building's plan.
The existing alignment of the contained site enforces an irregular geometry on the architecture that is very different to the controlled orthogonality one usually associates with the work of Sergison Bates.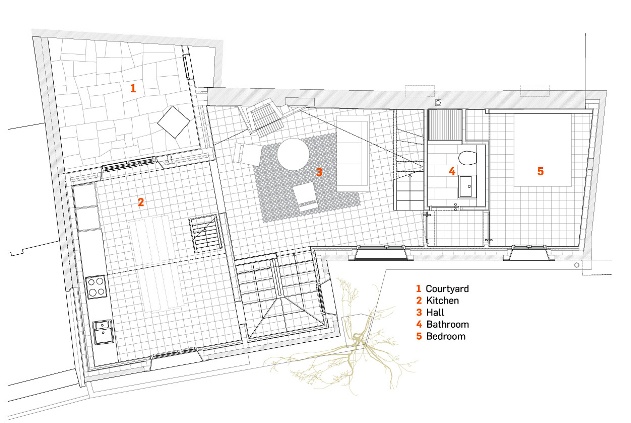 In the first-floor living room at the heart of the plan these irregularities meet, creating a spatially rich, five-sided space. Separate stairs from ground to first floor and first to second floor, along with doors to adjoining rooms, are located on opposite sides of the room, suggesting something of a great hall; a space actively socialised by the routes that pass through it, yet very much a self-contained room.
A rug-like rectangle of patterned tiling calmly directs attention to the elegantly detailed fireplace. Double-height, this room aspires to the qualities of a grander space, though seemingly without losing the human scale that its size suggests.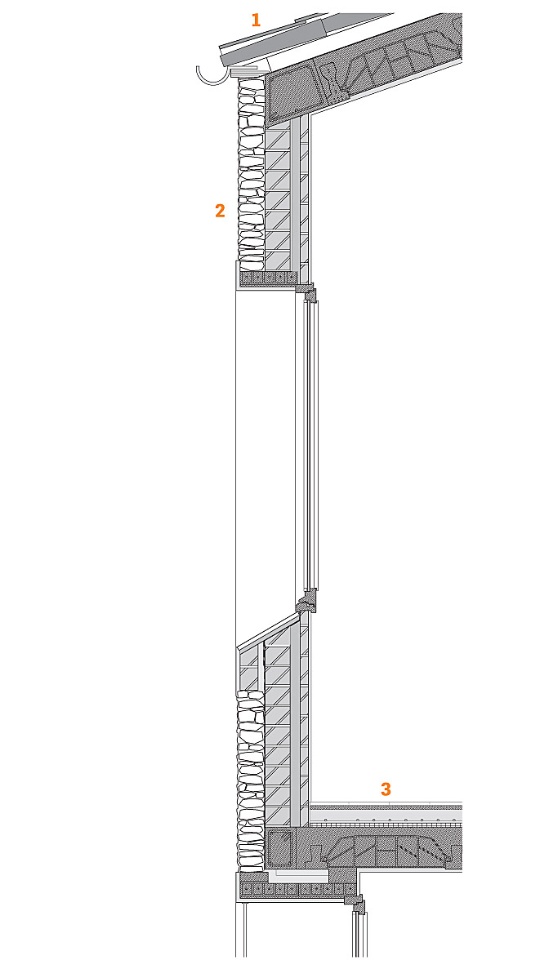 1 Roof build-up
Curved clay tiles.
80mm rigid insulation.
Precast concrete joists with hollow core planks and concrete screed infill.
15mm plaster with silicate paint finish.
Stepped ceramic tiles to form eaves.
Ceramic gutter.
2 Wall build-up
130mm stone with silicate paint finish.
90mm structural brick air space.
40mm rigid insulation.
40mm hollow brick.
15mm plaster with silicate paint finish.
Architraves to windows in 25mm render with silicate paint finish.
20mm white marble sloping cill.
Bespoke painted timber windows with double glazed units (4.8.5).
3 First floor build-up
18mm hydraulic concrete tile.
20mm mortar bedding.
Underfloor heating in screed base.
Underlay.
25mm rigid insulation.
Precast concrete joists with hollow core planks and concrete screed infill.
Internally the material palette is restrained, with white-painted walls and pale floor throughout creating a light background against which linen curtains, mutely painted joinery and marble details are picked out. This careful control is continued externally, in part due to the strict regulations the town imposes on all building works within the historic town centre. The three walls that adjoin neighbouring buildings are rough rendered and the wall of the street elevation is faced with self-supporting stone.
This facade is enlivened by a varied composition of windows that is both rescaled and realigned with the use of over-sized render architraves. As well as the walls and architraves every detail, from gutter and downpipes through to windows and balustrades, has been painted white. This flattened palette feels nevertheless both appropriate and, combined with the subtle development of the render details on the facade, very rewarding.
The windows to the street are set on the inside face of the walls, allowing the render to articulate deeply set, sometimes chamfered, reveals that mediate the Mediterranean light, whilst at the entrance the architrave to the front door extends, stepping and wrapping the stonework to suggest a generous outside domain.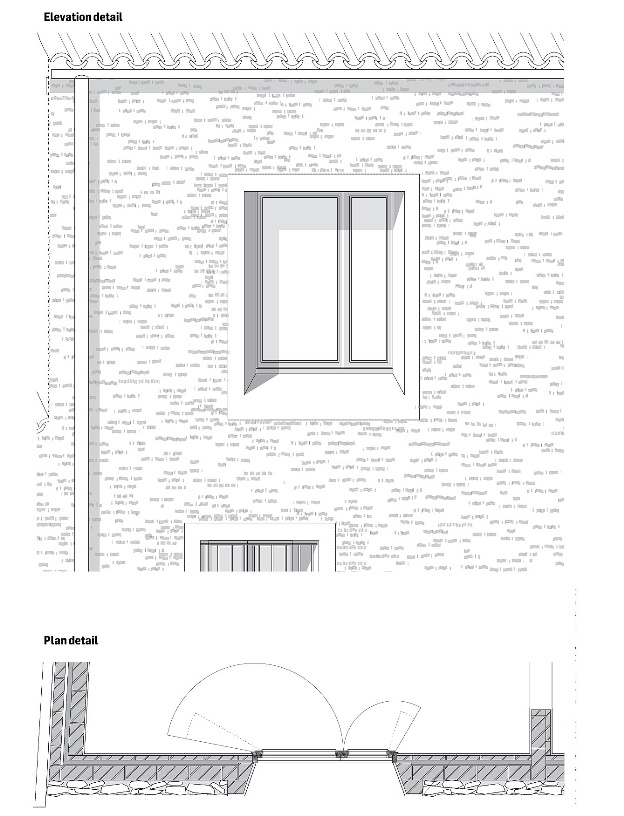 PROJECT TEAM
Architect Sergison Bates and Liebman Villavecchia Arquitectos, Client Stephen and Jane Bates, and Caroline Marston, Structural engineer Static Ingenieria, Services engineer (electrical and plumbing) Installacions Pedro López, QS Tècnics G3, Main contractor Construccions Granados, Windows and doors supplier (carpenter) Fusteria Vilà Torrents