Collective Architecture's sculptural facade takes inspiration from Scotland's steelworks
Project
Centrepoint Community Hub
Architect
Collective Architecture
Location
Gowkthrapple, North Lanarkshire, Scotland
Completed
May 2011
The scheme comprises two single-storey blocks, each clad in a warmly coloured masonry skin — one red clay brick and one yellow precast concrete. The yellow block houses community facilities such as the crèche, meeting room and café, while the red brick block contains a housing association's offices, a shop and flexible workspace.
The building's design was developed in consultation with the local community, leading to a facade that echoes the patterns of stratified iron ore — in reference to nearby Ravenscraig, formerly the largest steelworks in Western Europe.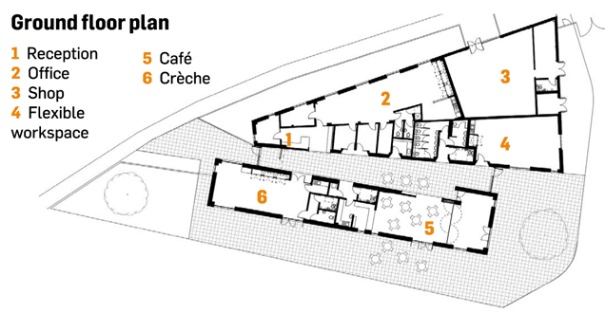 Panel casting
Translating the graphical illustration into built form required casting a pair of flexible polyurethane moulds that could be repeatedly reused without damaging either the precast panels or moulds when separated from each other
The process involved converting 2D vector drawings into 3D models suitable for a CNC machine to mill the positive form, from which the negative mould could be formed. The contours of the relief pattern were adjusted to ensure surface water would run off without pooling in deeper recesses. In time staining is inevitable, but this is seen as beneficial, as the deeper recesses will become darker, further emphasising the relief pattern.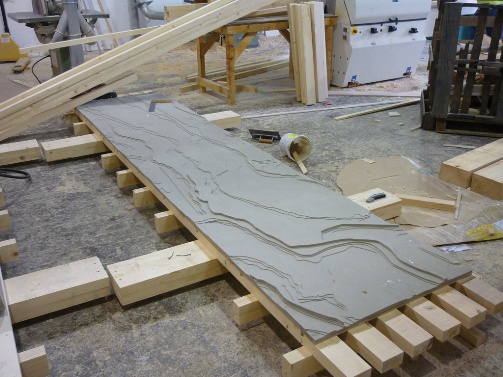 Contours generally step in 5mm increments providing subtle detail when viewed at close quarters, while ravines of approximately 20mm also cut across the panels. These remain legible from a greater distance providing a different reading of the elevation. The panels were cast in three subtle tonal variations, both to reduce the effect ofunplanned variation in the concrete mix and also to provide an additional rhythm across the elevations.
Achieving a 5mm open joint between panels required very high tolerances for the steelwork. A 1mm deviation from horizontal across the base of the panel would have resulted in a 4mm misalignment at the top of the panel. In practice this was resolved quite simply on site through the use of packing shims.
As a precautionary measure the panels were coated with an anti-graffiti transparent film — although to date this has not been relied upon and generally anti-social behaviour around the area has reduced.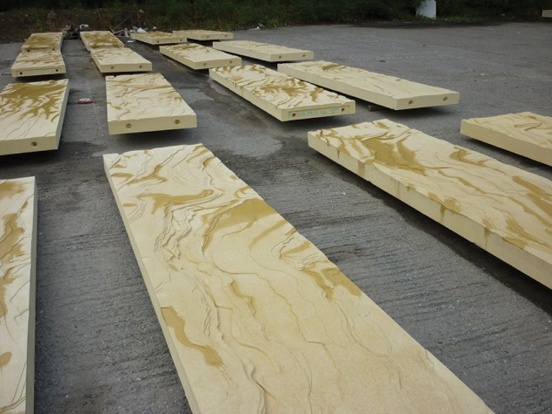 PROJECT TEAM
Architect Collective Architecture
Structural engineer The Structural Partnership
Services engineer G&R Holdings
Quantity surveyor Thomson Cost Consultants
Landscape architect City Design Co-operative
Graphic design Graphical House
Main contractor McTaggart Construction
SUPPLIERS
PU formliners Reckli
Precast concrete Plean Precast