Canopy for Roman site, Cartagena, Spain by Amann Cánovas Maruri Architects
Madrid-based Amann Cánovas Maruri Architects has completed a new canopy for an archaeological site in Molinete Park in Cartagena, south-eastern Spain.
Architect
Amann Cánovas Maruri Architects
Location
Parque del Molinete, Cartagena, Spain
Completion date
2011

Covering the remains of the Roman forum, thermal baths and house, the roof structure is designed to achieve a long span with as little support as possible, handle rainwater drainage and provide a uniform spread of natural light.
It also forms a new sculptural urban facade along the side of the site, repairing the street edge. The structure is designed to mediate between very different conditions, from the dense city centre to the sloping park beyond.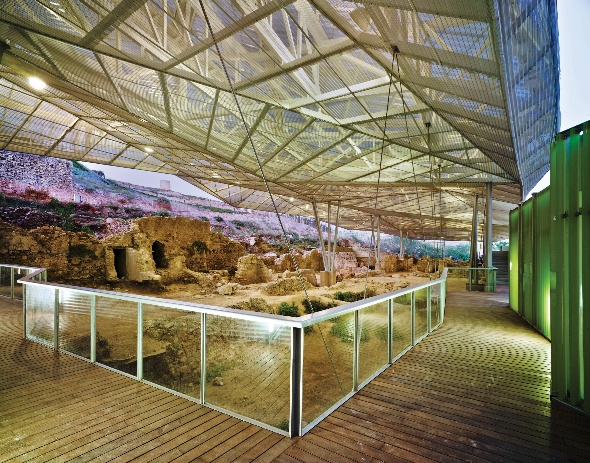 The roof takes the form of an irregular steel lattice, its geometry generated by the placement of inverted tripod columns in between the archaeological remains. The inner layer of the structure is clad with a modular system of corrugated translucent polycarbonate sheets, while the outer layer is constructed with perforated steel plates to modulate light and give a uniform finish.
An elevated walkway is hung from the steel canopy 3m above the remains, providing accessible access, parallel to the street, with views across the site.
Roof structure
The roof structure is formed of a 74m-long steel lattice, which consists of three longitudinal trusses made from S275 steel, that span up to 19.7m between pillars, with cantilevers of up to 11m. The heights of the pillars vary from 1.6m to 2.9m, generating the roof's undulating section.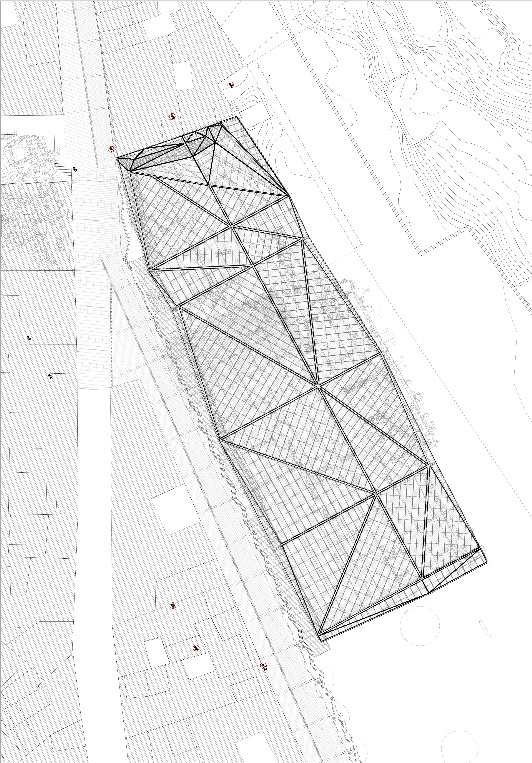 The main longitudinal trusses are tied by irregularly spaced cross-lattice structures, of up to 14.8m span, whose changeable depths give the canopy a faceted soffit. This roof framework alone weighs 200 tonnes.
The tripod columns, manufactured in Germany, are formed of 219mm-diameter steel pillars, made from 17mm rolled S355 steel. The inverted tripod shape provides resistance and inertia at the top, while the columns also carry water, avoiding the need for drainage pipes. The foundations consist of 200 micropile caps that descend 20m deep, mitigating seismic acceleration value of around 0.09g.
Wind resistance, of up to 27 m/s, is solved by 16.5mm stainless-steel turnbuckle cables, which extend from the columns in the crosses of St Andrew's.
Project team
Client Cartagena Puerto de Culturas, Structural engineer José Cerezo Ingeniería, Quantity surveyor Rafael Checa, Construction TMR, Facilities Condiciones Internas