Geomantic architect to use glass domes for home and business
Diana Hollacher commissions Solardome to "live in harmony with nature"
Two geodesic domes have been ordered by an Austrian "geomantic architect" to be used as a home and headquarters for her crystal salt healing business.
Solardome Industries said the order from Diana Hollacher is the first it has taken for a dome to be used as a private house. The 10m dome will be built using panels of wood and glass. A nine metre dome next door will be used as a skylight in the atrium of a star shaped building which will be home to Crystal Salt World.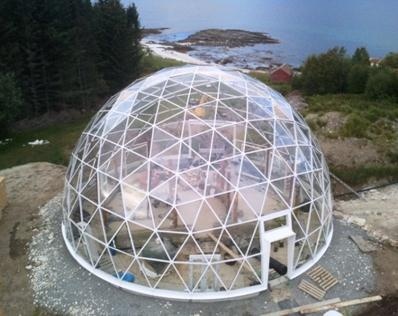 A statement from Solardome said: "Diana's dream is of an eco-friendly way of living where she can live in harmony with nature, and this will be reflected in not just her new home, but also in the well-being and salt therapy centre."
Solardome manufactures geodesic glass domes up to 25m in diameter, which can be built using a range of materials. The domes are frequently used as greenhouses and outdoor classrooms but the company says they can also be used as home offices, conservatories and artists studios.
Hollacher, who describes herself as a geomantic planning architect, said: "I'm extremely excited to be the first person to live in a dome home!"