CPD 16: Quality management systems
The latest in our series of CPD modules focuses on the processes that companies need to implement to maintain quality - and therefore sustainability - throughout their operations. This module is sponsored by the Chartered Quality Institute
How to take this module

To take this module read the technical article below and click through to a multiple-choice questionnaire, once taken you will receive your results and if you successfully pass you will be issued automatically with a certificate to print for your records

What is quality management?
Quality management is vital to the success of an organisation. It enables it to deliver products and services that meet both customers' requirements and regulations, protecting its reputation while reducing costs and driving improvement. It also helps an organisation to ensure it is operating in the most sustainable way.
Quality management is a combination of activities:
Quality planning This ensures that quality requirements are addressed throughout the product and service lifecycle
Quality control This focuses on process outputs to ensure that standards are actually met
Quality assurance This gives confidence that standards and requirements are being met
Quality improvement This process is informed by all of the above activities and the requirements of the business.
This CPD will consider the many activities that contribute to effective quality management.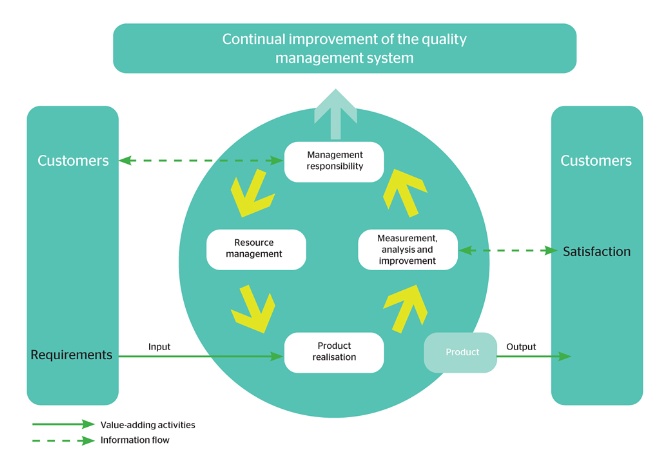 What is a QMS?
A Quality Management System (QMS) is an organisation-wide approach to directing, controlling and coordinating quality. Quality management takes a preventative approach, and an effective QMS will identify the risks to an organisation and provide ways to mitigate them. Risks include:
Failure in the quality of your product or service
Failure to deliver the product or service on time
Failure to deliver the product or service to cost
Failure to identify trends in customer needs
Failure to meet legal or regulatory requirements
Failure of partners and suppliers
Loss of customer data or property.
In identifying and managing these risks, a QMS provides the following competitive advantages:
Superior customer satisfaction and loyalty
Identification and elimination of waste
Better performance from suppliers
Employees committed to quality and improvement.
The QMS approaches the organisation as a system of processes which interact to deliver product and service. For each process within the system, a methodology known as Plan, Do, Check, Act (PDCA) can be applied:
Plan: Establish the objectives and processes necessary to deliver results in line with customer service requirements and company policies
Do: Implement the process
Check: Monitor and measure processes necessary to deliver the results
Act: Take action and continually improve performance.
The QMS helps an organisation to plan for success, and measures and reviews the effectiveness and efficiency of processes to inform improvement. A major misconception is that adopting a QMS demands a large amount of paperwork. Although certain documents are required, the modern QMS can be lean and agile, and should be developed to suit your business in terms of size, complexity and risk.
The international standard
The ISO 9000 series of standards is the main set of international standards applying to the management of quality systems. It includes ISO 9001, the standard against which organisations can achieve third-party certification for a QMS.
To achieve ISO 9001 certification, a company must fulfil a large number of requirements, including:
Quality leadership A statement demonstrating that an organisation's quality policy is driven by senior management. This may cover: identification of the customer's needs; support and standards of performance for subcontractors and suppliers; a focus on prevention rather than dectection; measurement of satisfaction among customers and the supply chain; performance measurement, review and improvement. Leadership also requires senior management commitment to ensuring that the QMS delivers intended outcomes through aspects such as communication of the policy, allocation of responsibilities, and providing adequate training and resources.
Quality planning Taking into account the commercial context and customer requirements, the QMS will establish "who, what, how and when" the organisation will address risks and opportunities, avoid undesirable effects and achieve desired outcomes.
Support Establishing the resources required to deliver on the quality policy and objectives throughout the organisation and supply chain, including communicating the different roles of people within the organisation in delivering to the requirements of the QMS.
Operational planning and control Planning, implementing and controlling internal and outsourced processes to design and deliver product and service.
Performance evaluation Setting out how work is to be monitored, measured, analysed and evaluated, to establish that the QMS is suitable, adequate and effective. Inputs may include audits, metrics, schedules, non-conformities, complaints, monitoring and measurement results.
Improvement Dealing with instances of undesirable results and identifying ways to prevent future occurrence. This also includes considering changes in the internal and external environment and how these future risks and opportunities are to be addressed.
Benefits of ISO 9001 certification
In addition to the benefits of effective quality management outlined above, achieving ISO 9001 certification offers a number of further advantages for an organisation:
Certification can open new markets where it is a customer requirement, as it is among many public and private sector organisations.
Certification reduces the number, and therefore the cost, of supplier audits. Instead of multiple audits, it involves a single audit, and provides a certificate that is universally recognised by customers (depending on their own policies).
Certification provides an organisation with an independent view of its QMS performance and its capability to consistently meet customer and regulatory requirements and to continue to improve.
Certification can provide a level of confidence in the capability of an organisation's own supply chain to consistently meet its requirements, as well as reducing the cost of the oversight audit that is required.
The Chartered Quality Institute promotes "accredited certification", which means that the third-party certification operates under the oversight of the United Kingdom Accreditation Service, in the UK, or a similar national accreditation body in other territories. Achieving non-accredited certification may mean that an organisation's certified status is not recognised by some customers and may not necessarily comply with international standards.
How to take this module
To take this module read the technical article below and click through to a multiple-choice questionnaire, once taken you will receive your results and if you successfully pass you will be issued automatically with a certificate to print for your records.
Deadline: 21 December 2012

About the Chartered Quality Institute
The Chartered Quality Institute (CQI) is the chartered professional body for quality management professionals, representing more than 10,000 professionals working in the field.
CQI supports members' career development, knowledge and competence through training and qualifications, offering networking opportunities at a branch and regional level, as well as supplying relevant and up-to-date industry knowledge through its bite-sized learning tools.
Membership is open to those working within the construction industry focusing on business improvement, management systems or quality management. CQI has also established a Construction Special Interest Group. The group aims to raise the profile of quality within the construction sector, providing a forum for quality professionals to share experience and knowledge with peers, clients and the supply chain.