Campaign groups claim resubmitted plans are "indistinguishable" from rejected application
Plans by AHMM for a supermarket and flats in Hackney have been slammed by local residents who claim they are "indistinguishable" from proposals rejected earlier this year.
Newmark Properties submitted plans earlier this month for a Sainsbury's supermarket with 53 flats above at Wilmer Place in Stoke Newington, the developer's third attempt to secure permission at the site.
Councillors rejected the most recent application on the grounds that it would cause harm to a conservation area, damage habitats and biodiversity in a nearby cemetery and fail to provide enough family-sized housing units.
AHMM's latest plans have reduced the number of flats by one and increased the number of three-bedroom flats by three. The scheme's footprint has been scaled back by up to 3.2m to lessen the impact on the cemetery and nature reserve.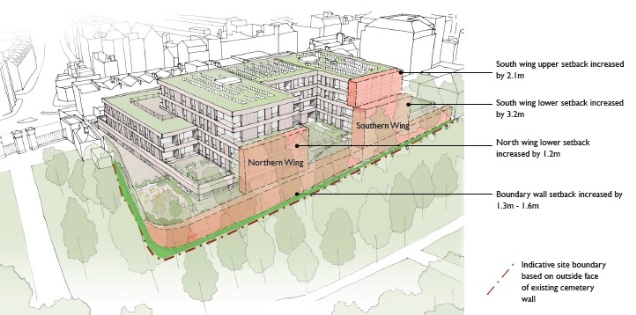 But local campaigners, who have been behind a vocal campaign against earlier iterations of the scheme, have lamented what they see as a lack of real changes.
Nick Perry, spokesman for Stokey Local, told the Hackney Gazette: "This is a token gesture and we can't believe they have the gall to put it in. The application looks like a spot the difference competition.
"The side that faces into the cemetery has had the tiniest wafer shaved off it and the rest of the changes comprise tweaking a couple of balconies. It's still as massive and as damaging to the ecology as it was before.
"At this rate we could be in for a 10-year fight before we get something acceptable."
Hackney Planning Watch said: "We have spent some time analysing the new proposals, and the short versions is that they are largely indistinguishable from the previous one already rejected by committee."
A spokesman for Newmark Properties said the developer was seeking to address the reasons given by Hackney councillors for the earlier refusal.
"The new proposals have more family sized units, and further set back the development from the neighbouring Abney Park Cemetery through changes to the design and pulling back of the podium wall and upper residential floors," he said. 
"We have also acknowledged the importance of the grass strip adjoining the cemetery to the local community, and excluded it from the development footprint, and indeed intend to pass it over to the Park.  AHMM have also revised the design of the elevation adjacent to the cemetery gates to satisfy points raised by the planning committee."
The Wilmer Place plans are likely to be considered by Hackney councillors at the end of July.