Q&A with Angus Pond Architects on working with designer clients
Sara Jayne Bowen, associate at Angus Pond Architects, says communication by sketch and word is essential when working on projects such as Stella McCartney's worldwide stores
You've been working with Stella McCartney for the past three years. How has your design concept evolved?
Stella is constantly evolving her brand so our approach can't be rigid. We've completed 25 stores and concessions, ranging from about 25sq m to 10 times that size. Every one has developed concepts from earlier jobs, mixed with new ideas — the opposite of a rolled-out design. The Milan store is going to tender at the end of this month, while another is under construction within the huge new Souks development in Beirut. The shell has been designed by Rafael Moneo, and will open early next year.
Are there advantages to having a designer client?
The design process is truly collaborative — the beautiful palette and the construction language for the shop fittings were all developed together. Stella has a great tactile sense for materials and details so we can have a lot of fun with it. In Beirut, we are contrasting the muted tones of a Japanese ash veneer and the Stella McCartney NCS colour — a sort of dusty pink — with bronze and brass fittings patinated to a vivid acid green. Slight variations in the metalwork, such as the brass rods in finishes ranging from roughcast to polished, help navigation through the store. The fine metalwork reflects the detail in some of the Stella McCartney products. Down the centre of the store are plinths to display bags and shoes; they're clad in custom-made white rhombus tiles in three different textures, each having had a different glazing applied to them.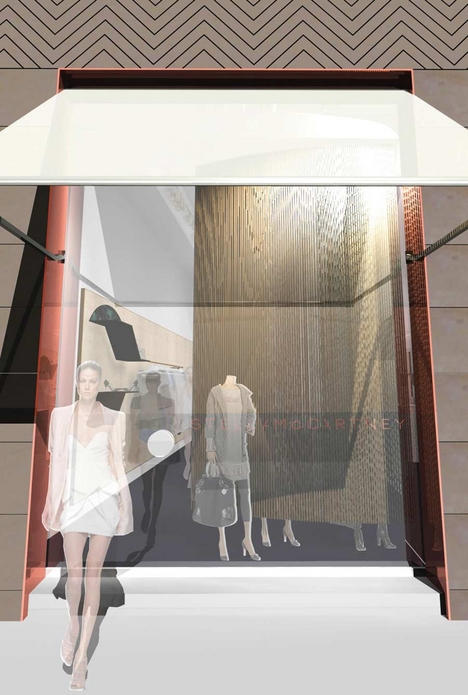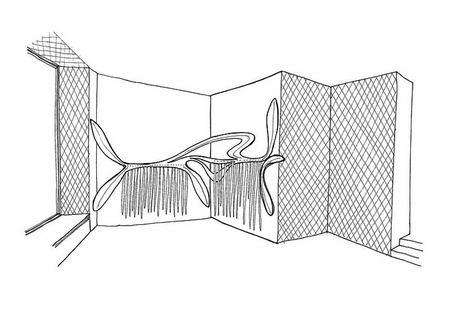 How does the context affect the designs?
There are great cultural differences to deal with, and we're given precise quotas of different items to fit in the stores. In some countries, such as the UAE, bags, shoes and accessories sell better than others due to local dressing habits. In other places, religious beliefs mean changing rooms are prohibited. We also have to respond to the existing building. The Paris store, for example, was in a Monument Historique (similar to grade I listing) while in the Moneo building in Beirut we're echoing his copper window reveal detail in our "dot" logo applied to the glazed facade.
What generates the complex, aerodynamic forms in your latest models?
We begin the projects by producing a picture library of images that capture a tone, ranging from Corb sketches to nature photography. The design evolves through debate and editing of these images. The latest curves are inspired by Alexander Calder's sculptures that work well with the strong femininity of the McCartney brand. But their heavy industrial materiality isn't appropriate so we're working to recreate the folds and shadows in lighter materials.
This Scarpa-like fetish for detail seems more appropriate to cabinetry than architecture.
Definitely — that's an expertise we've had to develop. When we can, we work with shopfitting contractor Buzzoni which is at the heart of Italian metalworking. Though we can't speak Italian there is a great reciprocal process. They produce full-scale prototypes of the fittings and we communicate through sketches. It's a process that only works when the contractor is as keen as you to get that level of detail. We understand not everything can be controlled, but we still try: for a 58sq m shop, we produced 32 sheets of drawings. Every idea has to be on paper so the client can see what they're getting.
How can you be confident in the overall quality of finish?
Although these are just interior projects, we still work within a complicated structure. As well as Buzzoni and the Stella McCartney team, we partner with local architects. The flagship stores — London, Paris, New York, Los Angeles — are owned entirely by Stella McCartney; Beirut, is part-owned by Aishti, the Lebanese answer to Selfridges. Having an expert partner such as Lane Crawford in Beijing and Hong Kong, or Al Tayer in Jeddah and Riyadh results in a minimum three-way dialogue; it might sound hard to manage but it's actually a good way to test and review our designs.