CPD 11: Uses of lead sheeting
In the latest of our regular series of CPD modules, we look at the various types of lead sheeting and their uses in the UK. this module is Sponsored by the lead sheet association
How to take this module

To take this module read the technical article below and click through to a multiple-choice questionnaire, once taken you will receive your results and if you successfully pass you will be issued automatically with a certificate to print for your records.

Introduction to lead sheeting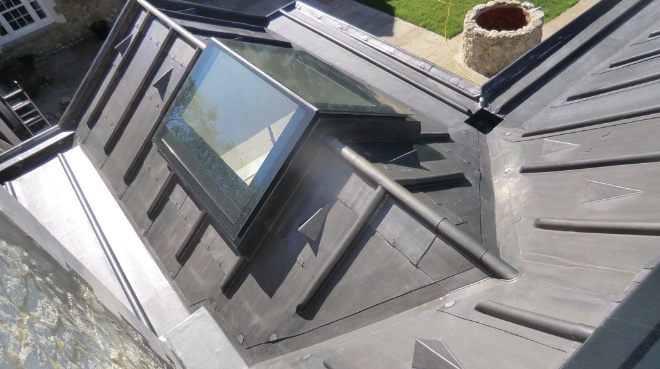 Lead sheeting is a versatile material used on a variety of buildings, from the flashings on domestic porches and cladding and roofing on modern commercial buildings, to the domes of heritage buildings and churches, mosques and synagogues around the world. According to the Lead Sheet Association, about 15% of the lead sheet produced is used for restoration projects, 15% is used for modern roofing and the remainder is used for flashings and weatherings.
Lead sheeting offers a number of environmental benefits. It is 100% recyclable and can be used repeatedly without a loss of performance. More than 95% of the lead used in the manufacture of lead sheeting is recycled. Lead also has a relatively low melting point of 327°C, which means that less fuel is burned in its manufacture, reducing associated carbon emissions.
This CPD module will look at different types of lead sheeting and its main uses in the UK.
Types of lead sheeting
There are three main methods of manufacturing lead sheeting used in the UK. These are:
Rolling Rolling mills have been used since the 1600s. Modern rolling technology allows material to be produced to uniform thickness across the width and length of the sheet, which improves resistance to thermal movement and provides a predictable performance. When measured with a micrometre, rolled lead sheet should be within +/- 5%. There has been a British Standard for the rolling process since 1945. This was converted to British and European standard BS EN 12588 in 1999, which was revised in 2006 following changes to the chemical composition to improve resistance to atmospheric conditions.
Sand casting This technique has been used since Roman times and relies on the skill of the caster. Traditional sand-cast lead sheet is usually recast from old lead stripped off of an existing roof, which is blended with new ingots. The length of sheet that can be produced is limited by the size of the sand casting table. There are two sides to sand cast lead sheet: a smoother underside which has been in contact with the sand bed, and a more uneven side where the molten metal has been dragged across the casting table by a wooden strike. The main concern with this method of manufacture is variation in thickness; it is normally manufactured in thick sheets, between 7 and 8 in the material code (see below). Sand-cast lead sheet is mainly specified for cathedrals, churches and historic buildings where the existing appearance must be maintained.
Continuous casting This method has been used in the UK since the eighties, and is also known as the DM process (for "direct method of manufacture"). It is a factory process, where lead is heated in a melting pot before being cast into rolls, water-cooled and wound onto reels. There is no common standard for the manufacture of DM lead and it does not meet the requirements of BS EN 12588 for rolled lead sheet. The main drawback of this method are the possible variations in thickness across the sheet it produces, which could affect long-term performance. In site investigations, the Lead Sheet Association has found that dimples and unevenness seem to be accentuated where
the material is thicker.The three methods of manufacture are shown within the National Building Specification clauses within section H71 on lead sheet coverings. When specifying lead sheet it is important to note the manufacturing process that should be used to ensure compliance with BS EN 12588.
Lead sheet is supplied in standard widths of 3m and 6m to builders merchants, and other sizes are available to order. The BS EN 12588 codes for lead sheet thickness are shown in the table:

The Lead Sheet Association has produced the table to the right to provide guidance on the thicknesses required for different uses: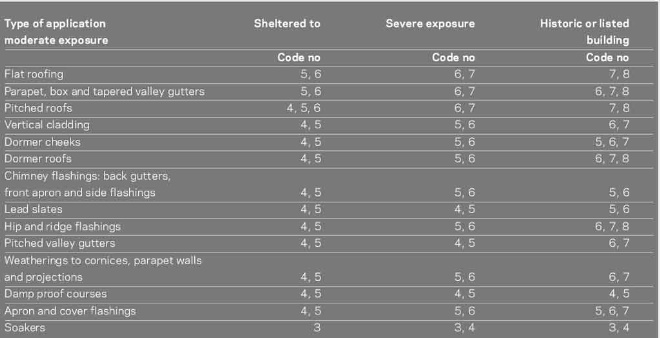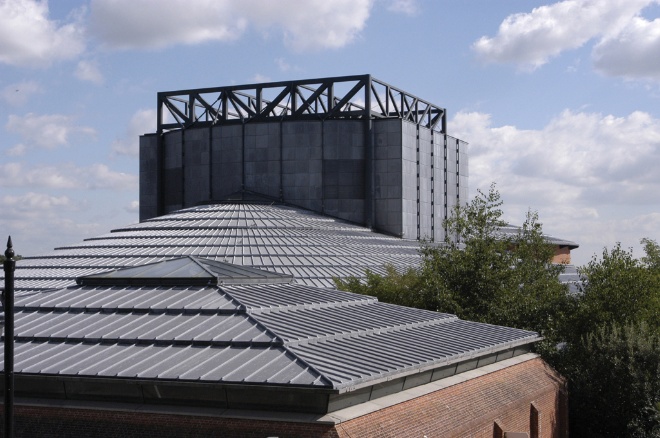 Flashing
There are a number of different flashing details that may be used, depending on the type of building, the shape of the roof and materials used, and local conditions. For example, for roofs with bold rolled tiles, a step-and-cover flashing is used instead of a simple step flashing, better fitting around the more textured roof surface. On double-lap tiles and slate roofs, simple L-shaped lead soakers are used at the abutment, normally formed from code 3 lead sheet, with code 4 used on historic and listed buildings. Alternatively, a secret gutter may be included in a hidden gap. Where flatter, single-lap tiles are specified, step-and-cover flashings should be used in combination with a secret gutter, to minimise the risk of wind-driven rain being pushed under the lead sheet lapping over the tiles. Single-step flashings may also perform better in more exposed locations.
Where code 4 or 5 lead sheet is used as a flashing in any style, lengths should be limited to 1.5m to allow for thermal movement.
Fixing flashing to brickwork
There are a number of considerations that should be taken into account when fixing flashing to brickwork to ensure optimal long-term performance.
Pointing is important to avoid a risk of cracking. The lead sheet should be turned in a minimum of 25mm and lead wedged on each step. Wedges are used at 450mm centres when installing horizontal flashings. Proprietary stainless steel or plastic clips can be used as an alternative to lead wedges, and mastic can also be used as an alternative to mortar pointing. However, it is important that the correct type of sealant is used to reduce the risk of white staining to the lead sheet during the curing process. Suitable sealants include one or two-part polysulphide sealants, and silicon sealants must be non-acid-curing or low-modular.
It should be noted that flashing used at an abutment is there to protect the gap between the head of the tiles and the brickwork - it will not stop moisture penetrating through the brickwork. Therefore, where cavity brickwork is used, a cavity tray would be required.
When a damp proof course is used with a lead flashing, where possible the flashing should be fitted underneath the damp proof course to give maximum protection.
All free edges of lead sheet should be clipped to suit the exposure of a building. As a general rule, the lower the fixing, the stronger the clip should be to avoid damage from wind. Lead sheet itself is only suitable as a clip in sheltered applications. Copper or stainless steel should be used for moderate to severe exposures. Where additional fixings to tiles are required, an additional tiling batten may be needed to provide a fixing point.
When dealing with rendered abutments, the Lead Sheet Association advises that the lead sheet is turned into a chase and pointed, prior to the render stop bead being fitted. Where there is existing render, it usually advises that the lead is turned in the depth of the render, plus 25mm to help ensure a sound detail.
Pitched valley gutters
Where code 4 or 5 lead sheeting is specified, 1.5m lengths should be used for the lining pieces. Where thicker lead sheet is used, lengths of up to 2m can be considered.
The width of valley gutters should be related to three key factors: roof pitch, rainfall rate, and the roof area draining into the valley.
Weatherings
Lead sheet can be used to protect cornices and parapets. Single lock-welted joints are used to join sections of lead sheet on parapets and cornices, and copper clips are inserted in the welts to secure the lead sheet against wind lift and suction. Clipping to the free edges is important, and in exposed locations continuous clipping is necessary. The Lead Sheet Association also advises that a drip-off point of about 25mm is provided to reduce the risk of staining to the underside.
The spacing of the welted joints on parapet and cornices depends on the width and the code of lead sheet being used. Wherever a fixed point penetrates, joints should be positioned either side to accommodate for thermal movement.
Gutters
Lead sheet is used for all types of gutters. Gutter linings can be divided into four main types: box; tapered; parapet box or tapered; wall head or eaves.
The important thing to remember about sheet metals is the coefficient of linear expansion. Different types of joints, steps across the fall and wood cored rolls running with the fall, are all there to allow for thermal movement. Typically, when using code 4 lead sheet the spacing of the steps would be 1.5m, while where code 8 is used it could be as high as 3m - the thicker lead sheet has greater mechanical strength.
Other applications
Lead sheet is also used in a wide variety of roofing coverings and structures for modern and historic buildings. It is used in cladding systems, both traditionally fixed and preformed panel systems, and also in a range of dormer projections. Joints and other fixings depend on the style of the building, its exposure, the thickness of lead sheet being used and the appearance required.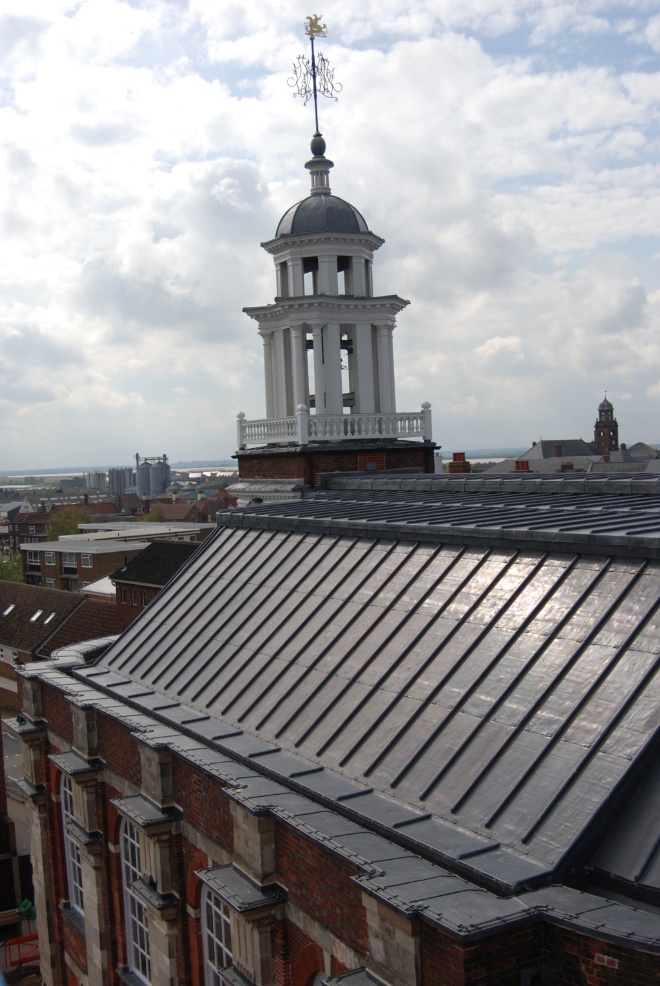 Further detailed guidance is available from the Lead Sheet Association on the many applications of rolled lead sheet and the considerations for specifying, fixing and maintaining them at www.leadsheet.co.uk. You can also contact the LSA Technical Team who are available to help with any specification or installation queries you may have.
Privacy policy
Information you supply to UBM Information Ltdmay be used for publication and also to provide you with information about our products or services in the form of direct marketing by email, telephone, fax or post. Information may also be made available to third parties. "UBM Information Ltd" may send updates about Building CPD and other relevant UBM products and services. By providing your email address you consent to being contacted by email by "UBM Information Ltd" or other third parties.If at any time you no longer wish to receive anything from UBM Information Ltd or to have your data made available to third parties, please write to the Data Protection Coordinator, UBM Information Ltd, FREEPOST LON 15637, Tonbridge, TN9 1BR, Freephone 0800 279 0357 or email ubmidpa@ubm.com. View our full privacy policy online at www.building.co.uk/cpd
To take this module read the technical article below and click through to a multiple-choice questionnaire, once taken you will receive your results and if you successfully pass you will be issued automatically with a certificate to print for your records.

Company name: Lead Sheet Association
Website: http://www.leadsheet.co.uk/