The age of alien archi-forms has arrived
David Littlefield explains the thinking behind Space Craft, his new book on computer modelling
Let's face it, computers are pretty dumb. As presently configured, they're no smarter or more conscious than paper and pencil; the complex geometries they generate could be created with bits of string. Very clever people could solve all the calculations performed by computers with a piece of chalk — it would just take a very long time.
Computers are really just great time-savers. It's not quite true that it's new computer programs that allow architectural practices to generate and analyse funky shapes; what's really going on is that people are spared the agonies of learning to plot and interrogate these forms in their notebooks, manually. It would take too long to be worth bothering with.
Architects and engineers have been dabbling with computers for around 40 years, but only in the last decade or so have working processes become comprehensively reshaped and rethought.
More recently, architectural computing has developed to a point where almost anyone can design, render, analyse and manage almost anything.
Even very small practices can conceive and realise the most incredible things.
Even very small practices are capable of conceiving and realising the most incredible things. Big practices, of course, do the same incredible stuff — it's just that they can do more of it.
It seemed like a good idea, then, to take stock and see where the industry is and who is doing what.
The result of this enquiry is Space Craft: Developments in Architectural Computing, published by RIBA Enterprises and sponsored by Bentley Systems.
It features the work of both regular users whose working lives have been transformed by the products that software vendors put on the market, and people who mix and match software — fiddling around with it, pushing it in unexpected directions and writing their own programs.
Buildings are starting to behave more like organisms, responsive to their environment.
What became clear in putting this book together, thankfully, is that computer programs are only as good as their users.
A skilled user will take advantage of a program rather than be enslaved and limited by it. Sounds obvious, but it's easier said than done.
Using computers as a creative tool rather than as camouflage for a lack of creativity should be the ambition of every design practice.
In this excerpt from Space Craft, Hugh Whitehead and Brady Peters of Foster & Partners' Specialist Modelling Group discuss the role of the computer in complex design
Is geometry the essence of form — or just a convenient means of description?
At the level of philosophy or of science, this question could be debated without ever reaching a conclusion, while to most architects it is almost rhetorical. However, in the digital age when computers are increasingly used in design, fabrication and construction to explore the art of the possible, the answer is no longer clear-cut. This is because approaches to design are as much a matter of style as the resulting form. The design medium, and the materials and methods used for construction largely determine the most effective means of description.
Historically, the use of geometry and mathematics to describe built form linked the processes of design, fabrication and assembly. This meant the theories of proportion and harmony — and also the precision required to co-ordinate delivery by large numbers of people under a legal contract — could be specified within the same system.
The implication was that the application of rationale would not compromise creativity or the creation of a beautiful form.
This is being challenged by digital technology to produce free-form buildings which, by transcending the limitations of Euclidean geometry, can deliver an aesthetic that appears more organic but which can also perform better.
Ultimately, the creation of form is about the resolution of forces — some physical and some metaphysical. While engineers may use form-finding techniques to deploy material to minimise stress, architects explore trade-offs between considerations which are harder to quantify or balance.
Aesthetics have no absolute measure. The appeal of a building may lie in the delight of experiencing a habitable sculpture, yet the complex structure that supports it is never seen. On the other hand, the honest expression of structure and detailing can be seen as symbolising an intellectual rigour which permeates the whole design.
Accepting the constraints of a limited palette of surfaces that can be described in terms of simple projections of lines and arcs has advantages that cannot be easily abandoned. A system of geometry constructed with a ruler and compass can also be marked out with nothing more than pins and string, so the design intent can be reliably conveyed to fabricators and contractors using conventional drawings and a rule-based method statement. However, free-form designs developed with digital 3D models can be implemented using only surveying equipment based on laser technology and fabrication processes which depend on computerised numerical control systems. The higher levels of skill required are also often accompanied by higher risks and greater cost.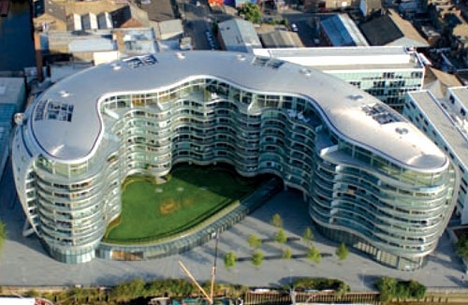 Since the mid-1990s, Foster & Partners has explored the potential of free-form design with six seminal buildings — 30 St Mary Axe; the Sage, Gateshead; GLA City Hall; Albion Wharf; Free University Library, Berlin; Chesa Futura, St Moritz — for which geometric principles were relaxed and gradually extended rather than suddenly abandoned, so that a systematic approach still ensured delivery on time and to budget. The research was undertaken by the in-house Specialist Modelling Group. Each project was a voyage into uncharted waters, but in retrospect they can be seen as part of a progression in which new design ideas were supported by new approaches to a rationale which helped make the projects buildable.
Design can also be described as an evolutionary process in which the result, the intended route and even the starting point cannot be predetermined. The way in which potential solutions are generated, evaluated and selected is extremely Darwinian, yet both logic and intuition play roles that are inextricably combined. In his book Lateral Thinking, Edward de Bono famously described logic as the management of "no". The process of design requires a counterpart or corollary — inspiration is the management of "yes".
Hugh Whitehead is a partner and director of the Specialist Modelling Group at Foster & Partners. Brady Peters is an associate partner with Foster's and a member of the Specialist Modelling Group.
Postscript:
Photos by Neil Young and Foster & Partners
Original print headline 'The age of alien archi-forms has landed'