Pixel this: Designing intelligent objects
Marc Fredrickson has a post-graduate degree in architecture, but his California milieu meant that for years he designed computer games instead. Now with digital provider FormFonts 3D, he's leading the quest for intelligent objects
Before the recession of the early nineties hit in the US, Marc Fredrickson was planning a long and illustrious career in architecture. More than a decade later, it still hasn't happened.
Instead, he's one of the brains behind FormFonts 3D, a subscription-only service that provides digital trees, people, signage and other ephemera to bring computer models to life.
FormFonts 3D is used by architects, set designers in the entertainment industry, and construction planning offices to help plan sites and give clients a sense of scale. It was originally developed to work with Google SketchUp, Google's popular 3D modelling program.
The technology FormFonts 3D uses was originally developed by Frank Abler, Fredrickson's university friend and creator of the objective networks research project which allowed any computer user to create 3D models for others to download and use in SketchUp. The project, a forerunner of Google's 3D Warehouse, offered little in the way of quality control, which made its practical application problematic.
FormFonts 3D solves that problem by responding to the requests of its subscribers, who pay $199 a year to download unlimited objects from its catalogue. Currently, the company designs objects for use in Revit, Autodesk 3ds Max and ArchiCad, and objects can be converted from one format to another.
"Architects don't have a lot of time, but they still need to able to present something to the client that's going to be understandable. Programs like SketchUp give you that facility, then FormFonts allows you to fill out your space quickly. It grounds the design and gives people a sense of place," says Fredrickson.
He has first-hand experience of how these objects can help project architects convey the reality of their designs to a client. After quitting a full-time job as a computer games designer in 2002, Fredrickson used Google SketchUp to design his own family home in San Diego, California.
"When I first showed the design to my wife, she said, 'I just feel like I'm in the movie Tron, I don't get it,' because it's just a bunch of lines. So I started putting in figures, furniture, trees and all the entourage stuff so she could get a sense of what the space was going to be like."
3D design also influenced the kitchen, which has become the centrepiece of the house.
"We were in the cinema watching The Incredibles when it came out, and when it came to the first time they were in their kitchen in the movie, she leaned over and said, 'I want my kitchen to be like that.'"
The result is cartoon-like, fifties space-age design, with surfaces that slope back towards the wall. Fredrickson describes the style of the house as a cross between Austrian modernist Adolf Loos and 1930s craftsman design, the predominant style in his San Diego neighbourhood, which he freely admits is a weird combination.
It's not the first time that Fredrickson's forays into the digital world have taken a surprising direction. He started his career in computers and design at the age of 16, when Apple released its second generation of desktop computers and his school got two of them.
"That was kind of a big deal. I did this demonstration of different ways of passive heating your house," he remembers. "Then I went off to architecture school and computers were nowhere to be found."
After graduating, he joined a 60-strong practice in Sacramento and designed schools with AutoCad, but grew dissatisfied with the company's post-modern aesthetic.
Having sufficiently annoyed the management, he quit to study for a post-graduate degree, joining the inaugural year of the University of San Diego's architecture degree programme, led by future MIT dean Adele Santos. Then the recession hit, and university budgets were slashed.
Fredrickson's professors had never seen anything like his virtual mall, created in Form Z
"The six of us who actually already had our undergraduate degree were able to finish the programme and graduate. I like to joke with people that my education cost $1.6 million, because the university had spent something like $10 million on the course."
As part of his degree, Fredrickson created a virtual mall using one of the early virtual reality programs, Form Z. The project baffled his professors, who had never seen anything like it, but led to an approach from computer games developer Angel Studios, which was later bought by Rockstar, the software firm behind the infamous Grand Theft Auto series.
Starting out as an artist and ending up as a games designer, Fredrickson spent years developing games that weren't released, before working on Microsoft's popular Midtown Madness series, recreating real cities for players to race through, taking any route they wanted.
He then developed a similar game for Rockstar, Midnight Madness, travelling the world to take footage of real cities to recreate. That game was the forerunner of Grand Theft Auto, which also allows users to deviate from the core game, interacting with objects, buildings, pedestrians and policemen.
The intelligent objects with which the main character interacts in Grand Theft Auto are the next step for FormFonts.
Intelligent objects that respond to spatial stimuli and building regulations will be part of the next generation of 3D design — building information modelling — which will allow architects to design models that automatically respond to environmental factors, regulations and geometrical data.
But, according to Fredrickson, don't hold your breath for that development. "We've offered intelligent objects, and we're always discussing it. There is still some time before it's going to happen."
Designing The Incredible kitchen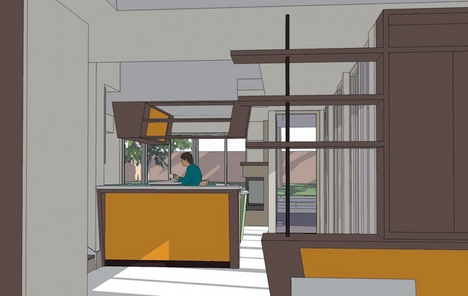 Fredrickson used Google SketchUp in 2002 to design his family home in San Diego.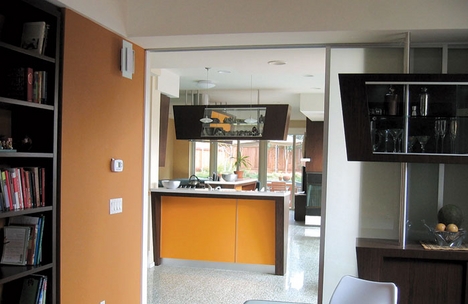 The family kitchen today, inspired by the animated film, The Incredibles.