It's time for phones to get even smarter
Next generation of mobiles will help practices keep up to speed
Mobile internet access has already become ubiquitous. With a smartphone you can now download pdfs of product information or check your email on site. Alternatively you can use a usb mobile internet dongle, or turn on data tethering on your phone to use your laptop to access project extranets or log into your office network when travelling.
Ofcom figures suggest that while UK internet-related network traffic has grown by a factor of eight since 2007, UK mobile data growth has risen by a massive 38-fold over just the last three years. To cope with this increase in demand, coverage, capacity and data connection speeds have been growing.
There was a time when GPRS was the standard for mobile data networks. This achieved about 56kbps download speeds. The launch of third generation (3G) services boosted this by a factor of almost seven times. This is the standard of mobile internet connectivity that most of us now enjoy and expect.
In July this year Ofcom confirmed that it would be launching the auction for 800MHz and 2.6GHz frequencies at the end of this year to allow mobile phone companies to launch the next, fourth generation (4G), services in the middle of next year using LTE (long term evolution) and WiMax (worldwide interoperability for micro-wave access) technologies.
Mobile internet access at this level has the opportunity to change the way we work
These data technologies are set to see a huge step change in the evolution of mobile internet access, with the potential for internet access speeds that surpass the current 9Mbit/s UK average download speed for fixed-line broadband — and could provide service speeds in excess of the 76Mbits/s advertised download speeds of the BT Infinity service.
Mobile internet access that can provide services at this level has the opportunity to change the way we work and it will undoubtedly continue to influence the way we organise our time and the environments that we choose to work in. Information technology has the potential to loosen the glue that binds us tightly to geographic locations and urban structures.
4G on the horizon
Last month the reality of 4G mobile internet access jumped a whole lot closer. Everything Everywhere, the new owner of the combined T-Mobile and Orange brands, has identified that rather than waiting for new frequencies to be released it could use the properties of its existing 1,800MHz
signal frequencies to offer LTE-based 4G services in advance of the proposed auction next year.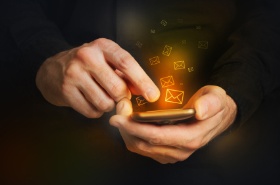 Trials have been conducted and the reality seems to live up to the promise. On August 21 the regulator announced approval for the idea and, barring any last-minute appeal by potentially miffed competitors, Everything Everywhere is free to launch 4G mobile data services from September 11.
Very few mobile phone handsets are currently designed for 4G data reception so we should expect initial offerings to take the form of specific 4G USB data dongles and potentially also 4G-enabled personal wifi hotspot devices.
Manufacturers of mobile phones have no doubt been developing 4G compatibility in the background, so announcements may be expected to follow quickly. Some of the latest internet rumors put Apple's iPhone 5 release date at September 12. It will be interesting to see if the dominant smartphone manufacturer is ready to jump on the 4G bandwagon.
Postscript:
Hugh Davies is co-founder of IT consultant Lomas Davies