Hugh Davies
Could new iPad applications and software become valuable tools for practices?
IPad has the right touch for architects
Apple's iPad may have been conceived as a consumer device, but that won't stop architects adopting it if it can do a useful job. Fresh out of the Apple Store, I've tried to identify the applications that might make the iPad a viable tool.
First impressions are that it's smaller and lighter than you expect. It does look good and, for the moment at least, using it catches people's attention.
It comes with built in web browsing and email software. The browser doesn't support Flash, but otherwise does everything you would expect. The onscreen keyboard makes my own two-fingered typing entirely feasible. The only downside is that, as with the iPhone, the mail folder tree is permanently fully open – a tad annoying if you are connected to an exchange server with hundreds of public folders. Its larger screen, however, makes this far less of a problem.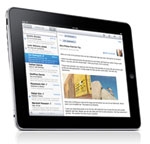 The format makes it ideal as an ebook reader. Downloading a free copy of John Ruskin's Lectures on Architecture and Painting, I found that flicking through the virtual pages feels uncannily intuitive and familiar (but without that musty secondhand bookshop smell). Unfortunately most of the information that architects might want to carry around is available not in ebook format but as PDFs.
Using the web browser and PDF reader to download and refer to the Building Regulations felt a bit clumsy and not very intuitive, so instead I turned to the Files HD app to create a browsable folder structure containing a whole library of regulatory, and technical pdfs. Opening the files in Stanza, a free PDF reader, you get a much better ebook style feel.
There are versions of Apple's iWork suite for word-processing and spreadsheet editing, but you wouldn't choose to use the iPad to do much other than editing an existing document. I can, however, see the Keynote presentation application being used by architects to put a very seductive interactive brochure or job pitch into the client's hands.
Looking at more specific design and architecture related software, Cartomap is a cad drawing package that can read and edit DXF and DWG drawing files. Unfortunately you can't use the Files HD app to get existing cad files on to the iPad, you have to use a separate application. We eventually did get a large DWG file to open but it was too slow to be viable. As drawing packages go you are probably much better off using Autodesk's Sketchbook app.
The latest application I've tried out is Bento Filemaker's database application for the iPad. There are a number of home user orientated templates but the potential power of the application for architects is the ability to create custom databases which can present inventory or room datasheet type information in a touchscreen virtual clipboard format.
The iPad is currently limited by the availability of software. But given the success of Apple's App Store for iPhone, this is a situation that is likely to improve soon
Postscript:
Hugh Davies is a co-founder of IT consultant Lomas Davies