Fluent's wind modelling program will blow you away
For quick ventilation analysis, computational fluid dynamics is hard to beat. Dan Jestico, senior environmental engineer at consulting engineer Hilson Moran, describes the benefits of airflow modelling with Fluent 6.3
Mixed-mode ventilation is increasingly being adopted to help reduce the carbon footprint of new buildings. In exploiting natural ventilation, the challenge is how to design a window opening system that provides a good supply of air across a floorplate without causing uncomfortable draughts near openings.
Building mock-ups and wind tunnel models can be time-consuming and expensive, but the risks of getting the design wrong are high. Using the type and level of technology normally reserved for Formula One racing cars, computational fluid dynamics (CFD) has the potential to allow numerous design modifications to be tested before construction begins.
CFD generates a 3D computer model of the geometry and surroundings of a design as a virtual airflow model. The effects of airflow and heat transfer can then be analysed in detail, allowing design iterations to be tested and improved. The process can also be used in the built environment for pedestrian comfort, fire and smoke modelling, solar radiation and wind engineering.
Hilson Moran has been using the latest release of Fluent, the CFD package from Ansys. We have been working with KPF Associates on its design for the Pinnacle — at 288m, set to be the City of London's tallest building — to introduce natural ventilation to the upper floors of this geometrically complex design while taking advantage of the prevailing winds.
Successive releases of the software have improved functionality, which has helped to speed up the process and increased modelling accuracy.
The previous release of the software implemented a "solver" which accelerated processing times significantly. Simulations that once had to run overnight or over a weekend can now be completed in hours. The latest release allowed the software to address all the 32Gb of Ram installed on my Windows 64-bit workstation, so I could simulate models as complex as those I worked on for the Honda Formula One team.
Fluent and its bundled geometry preparation software merge well with 3D modelling packages such as Rhino and SolidWorks, where surface geometry is exported as Acis or Sat files. At Hilson Moran, however, we can also export from Rhino using STL geometry to a third-party package called Harpoon. This automates the geometry preparation process, enabling a faster turnaround than is possible with the associated Fluent packages for a model as complex as that for the Pinnacle.
I could simulate models as complex as those I worked on for Honda's Formula One team

 
Hilson Moran first used this approach on the project to model the effect of facade design on the airflow across the floorplate. To reduce energy consumption, the Pinnacle has been designed with an externally ventilated facade which will limit solar gain into the offices while maximising natural light. The inner skin of the facade can be opened for mixed-mode ventilation while the outer skin consists of overlapping panels in a "snakeskin" arrangement, with some very narrow gaps between structural elements.
To obtain sufficient resolution of the flow between these gaps, we created our largest CFD model to date. The floorplate has been modelled at three heights on the building to take account of lower air speeds at lower building heights, known as the atmospheric boundary layer. The geometry has been assessed for wind from the South-west and North-east, these being the prevailing ones in London.
Initial results showed that the arrangement of the inner opening windows gave rise to a jet of air running around the perimeter of the floorplate, together with a potential region of slow-moving flow near one of the cores. Fluent showed that the high-velocity flows were created by jets of air from adjacent opening windows being superimposed.
To overcome this, it was proposed that windows which opened should be arranged to do so in alternate directions.
This was decided in a meeting one afternoon. By making the geometry changes in Rhino and using Harpoon for the geometry preparation, the model was ready for simulation by close of business the next day.
The simulation ran overnight and by the following morning, it was clear that changing the geometry had significantly improved the airflow pattern across the floorplate.
The huge benefit of faster turnaround times for CFD analyses is that the consulting engineer can contribute early on in the design process. It is used at concept stage on many projects to assess the potential for mixed-mode ventilation and other matters.
The huge benefit of faster CFD turnaround times is that it can contribute early in the design process

 
It is not a package that can just be picked up by anyone, though. Once an engineer has gained solid experience in Fluent, its use becomes second nature, but a beginner needs specialist training to get up and running. Users of CFD analysis require an engineering background, with some understanding of the nuances of aerodynamic mathematics, which means you need specialist staff or an external M&E consultant offering specialist expertise.
However, using CFD at an early stage in a project's development could bring considerable time and cost savings.
CFD studies of natural ventilation for KPF's Pinnacle Tower, City of London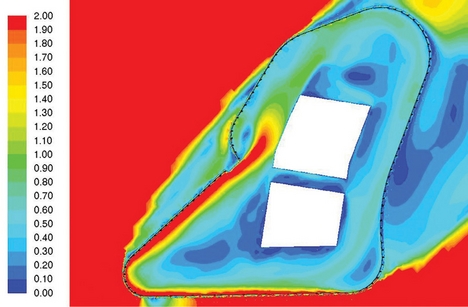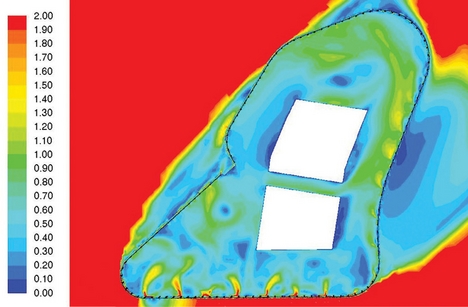 Fluent 6.3
ANSYS
4/5

Wind tunnel versus CFD
The debate about the benefits and drawbacks of physical wind tunnel versus CFD testing is one that will continue to polarise various aspects of the analysis community for many years to come. Rather than taking sides, it is better to gain an understanding of where the strengths lie in each.

Wind tunnel testing is a commonplace tool for pedestrian microclimate studies found in environmental impact assessments. As the technology has been around for some time, it is widely accepted since it measures airflow without relying on mathematical models of flow behaviour.
However, the numerics and turbulence models contained within most commercial CFD packages are able to replicate this to a high degree of accuracy. CFD offers benefits in its ability to model buildings at full scale, reducing the potential for errors from scale modelling. CFD results are also examined non-invasively, meaning that measurement tools will never affect the outcome of tests.
CFD testing also allows multiple options to be tested quickly and easily to allow ideas to be explored without the time-consuming process of building models and booking wind tunnel time. (See Which way will the wind blow?, BD, August 25, 2006).
Postscript:
Dan Jestico works for the Energy & Sustainability Group of Hilson Moran.
Full details on Fluent flow modelling software can be found at