Wayne Hemingway to oversee Dreamland design
Designer appointed with his team at HemingwayDesign
Wayne Hemingway has been appointed to design the revived Dreamland themepark in Margate, Kent.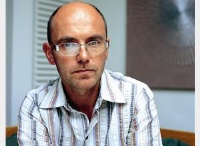 Hemingway said he was "excited" by the prospect of working on the £10 million project, which is due to open in 2014 and includes the grade II* listed scenic railway.
He added: ""Having visited Margate over the past few months and seen the grassroots creative revolution that is taking place, we are thrilled, nay cock a hoop, at the potential of the place and can't wait to get stuck in.
"We fully understand the scale of the task but with the creative community of Margate and environs we can deliver something of international significance."
The Dreamland Trust will run the park, which is expecting 350,000 visitors annually when it opens.
Nick Laister, chairman of the trust, added: ""Wayne and Gerardine and their team have a genuine passion for the British seaside and for the Dreamland Margate project. I am delighted to welcome them on to our team."