Viñoly hits back at Battersea criticism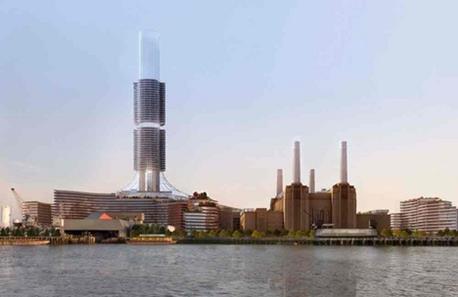 Rafael Viñoly has hit back at criticism of his controversial £4 billion scheme for the redevelopment of Battersea Power Station in London.
In an interview with the Times, Viñoly said he found people's sentimental attachment to the building inexplicable.
"If I showed you the letters they wrote when the building was being built – they f***ing hated it," said Viñoly. "People are not exactly queuing up to redevelop the place. If this doesn't happen, nobody saves that building."
Explaining his general approach to architecture, Vinoly said that architecture does not equate to art. "Architecture does not have to be permanent. I'm perfectly happy to demolish anything. I don't mind," he said.
And he attacked Daniel Libeskind's and David Childs' designs for a new scheme for Ground Zero in New York. "It was truly the wrong scheme, because it was a melodramatic version of real estate, a big visual statement when you don't f***ing know how real estate works. That's mostly the fault of the architect."
His comments follow criticism of the Battersea project from former RIBA president George Ferguson, who told BD in June that Viñoly was a "major menace to London".
Ferguson said: "Viñoly's proposal reveals an evident lack of understanding of the vital place Gilbert Scott's masterpiece holds in the London psyche. It is the height of arrogance to think that anyone could supplant this supremely muscular building with a vast gimmicky tower."