Former RMJM boss joins Graeme Massie
Brian Stewart, the former boss of RMJM, famous for leading work on the troubled Scottish Parliament building, has joined the award-winning Graeme Massie Architects.
Stewart, who worked on the Stirling prize winning but hugely over-budget Holyrood scheme with Enric Miralles before leaving the firm in acrimonious circumstances in 2005, was appointed as a director after working as a consultant on several of Massie's recent projects.
He will now help the Edinburgh-based practice expand internationally.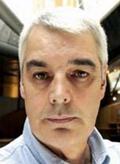 "Throughout my career my commitment has been to innovative, creative and forward-thinking design," Stewart said.  "Graeme's uncompromising standards and intuitive design skills are renowned and I am delighted to be joining his team."
Massie said Stewart would bring particular experience in managing high profile schemes around the world.
"For a young architectural practice to be supported and advised by such a prominent and respected design industry figure is an invaluable opportunity for greater presence in the market, in addition to giving clients greater comfort with regards to the delivery of high quality buildings," he added.
The firm said Stewart would also work on seeking collaborations that "encourage forward-thinking design and best practice in architecture".