Thomas Heatherwick to speak at Spanish edition of Hay Festival
Visitors recreate Roman aqueduct
Thomas Heatherwick has been announced as the keynote speaker for the architecture and design sessions at the Spanish edition of the Hay Festival taking place in Segovia on September 27-30.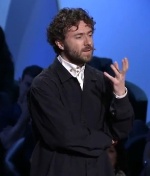 Heatherwick will talk about his studio's creative process and the blurred borders between design, architecture and society.
He will be interviewed by Martha Thorne, executive director of the Pritzker Architecture Prize and associate dean of external relations at the Spanish IE School of Architecture & Design in Segovia.
Thorne said: "Over the past 15 years, Thomas Heatherwick's creative work has established him as one of the most exciting and innovativedesigners in the world today. Not only does he seek unique solutions and research new materials while addressing society's needs, but he also comes up with results that are consistently surprising and beautiful."
The IE architecture school is helping to coordinate the architecture and design sessions at Hay Festival Segovia. Previous years have featured John Patkau, Shigeru Ban and Bjarke Ingels.
This year's highlights include students from IE University and members of the public erecting a reproduction of the Aqueduct of Segovia from American tulipwood.
And Jose Maria Churtichaga, architect and vice dean of architecture, will present a creative thinking workshop.