Spacelab completes work on north London landmark
Tower block stands beside a key artery
Spacelab has completed an affordable housing development on a historic tollgate site beside the A1 into central London.
The location of nine-storey Archway Heights, which replaced a previous, dilapidated residential tower, posed technical challenges which influenced the design and arrangement of the accommodation.
The elevation facing the road is constructed from high-insulation aluminium cladding panels which act as an acoustic buffer to screen the noise of the road while visually echoing the flow of traffic.
Source: Jefferson Smith / Spacelab
Bedrooms are located to the rear of the building and open-plan living areas are housed to the front. Picture windows and balconies look along the viewing corridor created by the road.
At ground floor, the development is landscaped and a glazed lobby provides street frontage, adding character to a faceless section of Archway Road.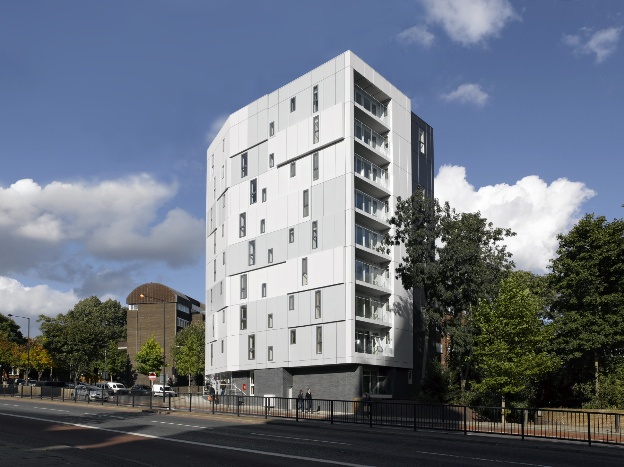 Source: Jefferson Smith / Spacelab
With no distinct local vernacular to influence the design the project entailed extensive consultation with planners and the local community to achieve the right solution for such a prominent site, said the architect.
The 25-property scheme, for Origin Housing, has three units on each floor (two one-bedroom and one two-bedroom), ranging from 54 sq m to 61 sq m in size.