Henderson director accuses Save of being alarmist
The developer behind John McAslan's plans to redevelop Smithfield General Market has accused Save Britain's Heritage of trying to discredit its scheme.
It claimed the conservation charity, which commissioned Burrell Foley Fischer to come up with an alternative plan, had misrepresented McAslan's proposals.
Save released its counter-proposal last week for the central London site, the western-most part of the 300m "procession" of market buildings.
Geoff Harris, director of property development at Henderson Global Investors which hired McAslan, accused Save of being alarmist in suggesting the whole market was threatened by its scheme.
Asked how tall the three new buildings would be, he would only say they would be up to five storeys and that the highest point would be less than a metre above the poultry market.
"I am baffled and saddened by the approach taken by Save to our proposals," he said.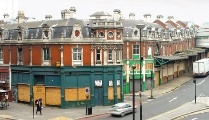 "It seems the facts about our proposals are being misrepresented. We have adopted a balanced and pragmatic attitude to finding a solution to these buildings and it would seem Save are not willing to consider our proposals with the same degree of pragmatism."
He said their scheme was the only viable way of retaining much of the Victorian fabric.
But Save president Marcus Binney insisted its figures stood up. He called on Henderson to honour its commitment to maintain the derelict buildings and added: "So far the public has only been allowed a brief glimpse of the proposals… Nowhere was it clear how much of the original fabric would be retained."