Race begins for Olympic Stadium revamp
Legacy body seeks main contractor for 32-month job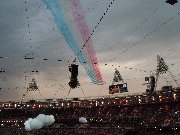 Source: Michael Perkins
The London Legacy Development Corporation (LLDC) has begun its search for big-hitting contractors to transform the London 2012 Olympic stadium into legacy mode.
In an OJEU tender notice the LLDC said the contract will last for 32 months and the client expects to shortlist at least five bidders.
The Olympic Stadium is likely to be the new home of West Ham United, after the football club's bid to occupy the stadium was ranked the highest by the LLDC last month.
The stadium - which was originally built by Sir Robert McAlpine - will also host the 2017 World Athletics Championship.
The LLDC will only accept bids from contractors that have turned over at least £700m over the last three consecutive years, although the client will also consider consortia bids that reach this threshold.
The winning contractor will act as principal contractor and designer, as well as construction manager.
For more information, contact Simon Matthews at LLDC, 0203 288 1800 or simonmatthews@londonlegacy.co.uk.