With the completion of its first permanent project, is Assemble emerging as a new model for architectural practice?
Periods of construction inactivity have often proved moments when the architectural profession takes stock and realigns its priorities. The critiques of functionalism that were a feature of discourse in the war-torn 1940s gave rise in the following decade to the more full-blooded modern architecture of Lasdun, the Smithsons and Stirling & Gowan.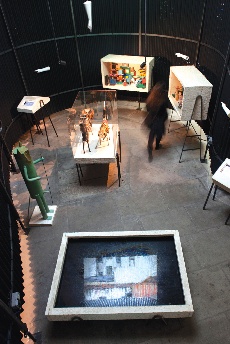 Source: Ioana Marinescu
Again, in the post-oil crisis 1970s, little was being built but new visions of the city were being explored through paper architecture, establishing concerns that underpinned the subsequent built production of figures like Koolhaas and Hadid. So what of the present moment? How does the profession now assess the enormous volume of building that it delivered in the boom years? And when the economy does pick up, will it simply be a matter of resuming where we left off or will a new circumstance demand a new response?
To date, those are questions that few who can legally append the title "architect" to their name have demonstrated much readiness to ask. However, in the five years since the global financial crisis took hold, a younger generation has shown itself rather more willing to speculate on where the new opportunities and responsibilities for those who make architecture might lie. Practice Architecture, the Decorators, We Made That and Studio Weave are just some of the young British firms — all multidisciplinary in scope and a number cheerfully lacking Arb registration — who are pioneering a new mode of practice.
Eschewing the well-trod trajectory of devoting five years of one's life to an established firm before embarking on a decade of house extensions, competition entries and teaching on the side, these practitioners have chosen instead to jump straight into the act of building. Much of their work is self-initiated, much temporary and much self-built.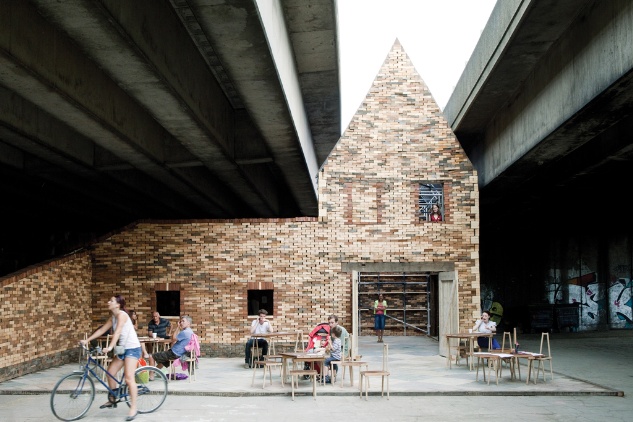 Source: David Vintiner
It is also invariably characterised by a powerful social ambition — the projects being defined not solely in terms of the production of a built artefact but also as a means of engaging communities in work, learning and play.
The office perhaps most emblematic of this emerging tendency is the 17-person collective, Assemble. Focused on a core group who completed their degrees in architecture at Cambridge in 2008, its membership also includes artists, designers and others educated in entirely non-visual disciplines. They came together in 2009, with an ambition to build — the architecture graduates among them admitting to frustration at the slow pace of delivery that they encountered as year-out students.
Lacking a budget, they knew any project would have to cover its costs, but were determined that it should be more than a mere commercial proposition. They wanted to make something of public worth. The result was the Cineroleum, a cinema that operated for three weeks that summer under the canopy of a disused petrol station in London's Clerkenwell.
Funded by ticket and drink sales, constructed in large part from salvaged materials and built by a workforce of more than 50 volunteers, the project was imbued with a glamour that belied its low-cost origins. The iconography of the golden age of cinema-going was brought to bear on the materials of the builders' yard: drop-down seats constructed from reclaimed softwood planks, an encompassing black-out curtain made from yards of Tyvek. Tom Emerson of 6a, who taught many of Assemble's members during their Cambridge years, remembers the project as impressing both for its architectural qualities and as a feat of logistics.
"A number of the people involved have really intelligent hands. They are capable of making things that are incredibly refined but also know when it is OK to make things that are rough as hell," he says. "But they are not just smart makers. There is a formidable organisation required to move an idea from pub chat to having hundreds of people attending an event and they have been fantastically adept at establishing that."
As popular as the Cineroleum proved, it was far from obvious at the time whether Assemble could translate its manifest energy and skill into an economically sustainable practice. As the online response to the group's recent appearance on the BBC's Culture Show suggests, there remains no shortage of naysayers ready to dismiss them as middle-class kids indulging a hobby. Yet four years on from the Cineroleum, the group has been able to consolidate its commercial foundations to the point that nine members work on Assemble projects full-time.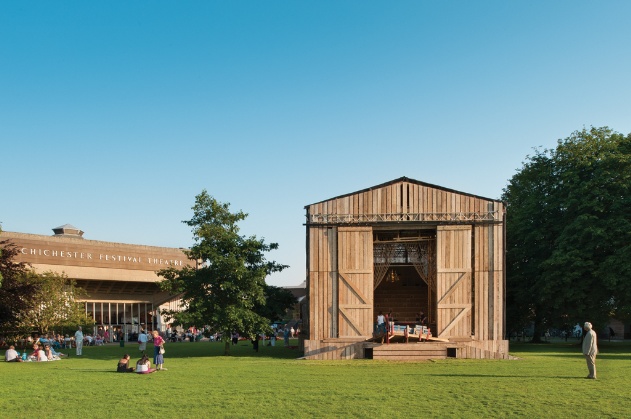 Source: Jim Stephenson
It has also realised a striking body of built work, including two further temporary performance venues — the Folly for a Flyover on the edge of the Olympic Park and Theatre on the Fly, which stood this summer alongside the Chichester Festival Theatre — as well as the installation of the British Council's current Lina Bo Bardi exhibition and the conversion of a former sign factory in Stratford into a space that will serve, until the site is redeveloped in a couple of years, both as a venue for public events and as Assemble's own studio. Most significantly, it has completed its first permanent project, the relandscaping of a square at the heart of New Addington, funded through the Mayor of London's £50 million Outer London Fund.
Among the areas to have benefitted from this investment, New Addington — or "Addo" as it is known locally — is the outermost. A large local authority estate, it lies 5km south-east of Croydon, ringed by metropolitan green belt. Until the arrival of a tram link in 2000 it was profoundly isolated, with catastrophic consequences for the job prospects of residents. It remains heavily deprived and beset by problems of gang violence, one Addo gang having recently been gaoled for its involvement in last year's riots.
"It's a tough place and has not had it easy over the past 40 years," says Finn Williams, the deputy head of placemaking at Croydon Council, the body that served as Assemble's client. "We had to face the fact that a level of cynicism had built up about council initiatives over that time." To undertake a public project in this context was always going to require more than mere design acumen: there was a political battle to be won too.
In establishing the brief, the placemaking team stipulated that bidders should commit to spending at least two days a week on site. Assemble was one of three practices shortlisted, with the final decision made by the community group, the New Addington Pathfinders. "I think they recognised that Assemble would be willing to get their hands dirty, which they certainly did," Williams says. "At one point a number of them were pretty much living on site in an old public toilet block which has been converted into a community hub. They were out there at five in the morning talking with market traders about where they should be pitching their stalls."
The square is a large expanse of block paving, fronted on one side by a parade of shops and serving, twice weekly, as the site of a market. The central challenge was how to animate it on the other five days. Despite ample parking alongside, the square was often colonised by cars, significantly curtailing its use. Much of Assemble's work has been directed at bringing greater definition to its edges. It introduced new planting and boundary walls along the shorter sides, and transformed the road addressed by the shops into a shared surface with runs of boulders on either side providing an engagingly surreal (if locally contentious) means of keeping cars in their place.
In the past the market and shops operated in isolation from one another, but Assemble has succeeded in persuading the traders to lay out their stalls parallel to the shared surface, forming what in effect is the second side of the street. This not only provides a more satisfactorily urban experience on market days but also enables the square to remain available for use by other members of the community.
The idea of opening the space up to all residents has been one of the scheme's guiding principles: finding built manifestation in a herringbone timber "stage" to one side of the square and a curvaceously modelled length of concrete for use by skateboarders and stunt cyclists to the other. It has also underpinned a programme of public events.
Prior to the scheme's realisation, Assemble staged a week of events in the square to which every public organisation in New Addington was invited to contribute. Between Man of Steel contests, tea dances and cake decorating demonstrations the square was speedily reframed as belonging to all: a place not only for commerce, but for public representation.
Members of the Assemble team were in residence too, making 1:1 prototypes of parts of the design — an involvement that was important to them not just as a means of communicating their proposals but also as a way of maintaining an intimate engagement with a project that has been the group's first realised by an external contractor.
Contending with more professional and anonymous delivery mechanisms is clearly going to present a challenge to the group's progress, but one way that it sees an opportunity to confront those issues is by teaming up with more established practices. In Harrow a partnership of Assemble and Adams & Sutherland Architects has been awarded another Outer London Fund commission, a project budgeted at over £1 million that includes both landscaping and new-build components.
Clearly, this represents a steep trajectory for a practice that still lacks a part II — let alone part III — qualified member. While some are completing their diplomas, others voice a militant resistance to the idea of resuming an institutional education. Given the amount they are learning and the consistently impressive quality of their output, it is not hard to see the appeal of that choice.
Perhaps the group will reach a point where the lack of a conventional architectural education proves a limitation. But it shows little sign of hitting that ceiling yet. Whether or not its members ever reach the point of being able to call themselves architects, Assemble has already established itself as one of British architecture's most exciting young voices.