Paddington Crossrail images revealed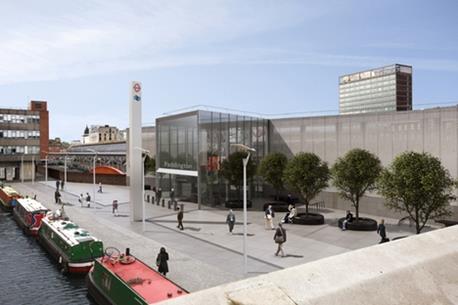 These are the first images of the proposed new Crossrail station at Paddington by Weston Williamson.
A new modern metal and glass entrance will be built for passengers on the site of the existing Hammersmith & City line station, which is to be demolished.
Solar panels attached to the glazed building will help power the station's lighting, while a green roof will provide a habitat for birds and insects.
Its concourse will be used to display art installations, and a new landscaped public square will be created between the new station entrance and the Regent's Canal.
The Paddington project is one of the most complex of all the central London Crossrail stations because of the sprawling layout of the station and the number of mainline and underground services that already use it.

When complete, passengers will be able to access all services from the new entrance. There will also be a new taxi stand.
A report on the project explains that a new entrance is vital because the existing Hammersmith & City line is already "heavily congested". The imminent reconfiguration of Circle line services will result in a 260% increase in passenger numbers using the station.
"There is significant increase in passenger demand forecast for Paddington Station as a result of the predicted growth on existing mainline and underground services and the continued regeneration of the Paddington area," the report explains.
The new entrance is on the north side of the station – the south side, much of which is grade I listed, will be preserved.

The new Crossrail platforms will be built beneath Eastbourne Terrace.
Paddington is one of seven central London stations that are being built as part of the east-west rail link through the capital.
The line will reach from Shenfield in the east, to Maidenhead in the west.
Trains will emerge from the underground section at Royal Oak, about 700m west of Paddington.