Oscar Niemeyer hospitalised in Brazil
104 year-old architect suffering from dehydration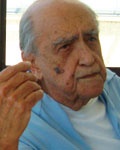 Architect Oscar Niemeyer has been hospitalized in Rio de Janeiro.
The 104 year-old Brazilian is reported to be in stable condition in the city's Hospital Samaritano.
His doctor Fernando Gjorup said Niemeyer is "fine" but suffering from dehydration.
"He entered the hospital complaining of nausea, but little else. He's on a saline drip, that's all," Gjorup told the Associated Press.
It is not known when Niemeyer, who was hospitalised earlier this year to treat a bout of pneumonia and dehydration, will return home.