Winning design features roof garden and glass wall
Nex has won a prestigious competition to design a new £2 million cafe at the Duke of York Square in west London.
The practice, based in central London, beat five other shortlisted schemes including projects by Carmody Groarke, Duggan Morris Architects, Architecture :00/, Pernilla Ohrstedt & Sarah Price Landscapes and TaylorSnell.
Its winning design is in the shape of an organic coiled form, featuring a roof garden and a glass wall that rises and falls depending on the weather.
Hugh Seaborn, chief executive at the Cadogan Estate, said the jury was "won over" by the proposal.
"We think it will intrigue passers-by and become a mini-landmark on the King's Road," he added.
Nex will now work with engineers AKT II, Equals Cost Consultants, Atelier 10, DHA Design and the Enterprise Collective to develop the design ahead of submitting a planning application.
Alan Dempsey, director at Nex, said: "After thorough analysis, we were convinced that the best approach was an architecture which resonated with the architectural heritage of the site, while providing a contemporary space that has flexibility for year round use."
The competition was organised by Malcolm Reading Associates.
Who is Nex?
London-based Nex was founded in 2008 by Alan Dempsey. It currently employs 8 people.
Recent project experience includes the refurbishment and extension of a grade I-listed retail centre in Dublin, pavilions in the public realm in London and Singapore, a rolling fit-out programme for the Architectural Association and private residential projects in the UK and Ireland.
Dempsey is currently a director of the Independents' Group at the Architectural Association, a global network of industry and academic partners researching the use of computational design and fabrication of new prototypes for the built environment.
Dempsey previously worked at Future Systems and was selected to represent the UK at the Beijing Architecture Biennale in 2008.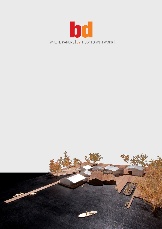 Discover the tricks of getting onto competition shortlists and jumping through the PQQ hoops with BD's White Paper 'How to win work – OJEUs, Frameworks and Competitions.
With an introduction from Richard Rogers, this unique guide gives an overview of the competitive landscape with statistics and analysis plus the state of the competitions scene and the results of exclusive research carried out by BD.
Plus inside tips from regular winners, clients and consultants including:
Sarah Ichioka, director of the Architecture Foundation; Joe Morris, co-founder of Duggan Morris Architects; Malcolm Reading, chairman of Malcolm Reading Consultants; Martyn Evans, Creative Director of Cathedral Group; Mark Brearley, Design for London; Peter Murray, chairman of New London Architecture and many more.
The white paper is on sale now for just £175 + VAT – download it today