Mipim cyclists arrive in Cannes
'Chapeau!' as peloton raises more than £350,000 for charity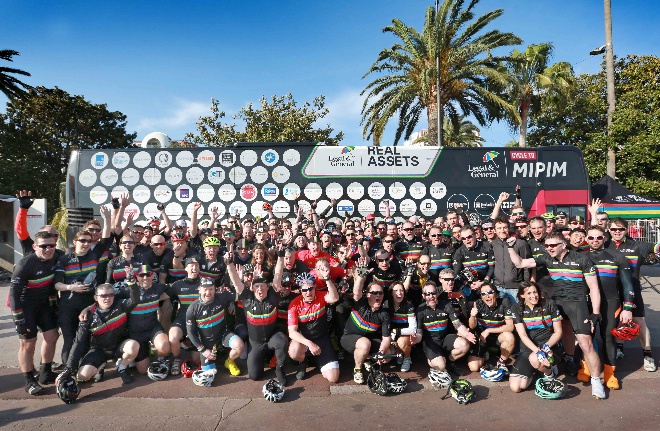 All 125 cyclists riding to Mipim have passed the finish line in Cannes.
The cyclists have ridden 1,452km through France in six days, raising at least £356,000 for Coram, a charity which helps the UK's vulnerable children.
Participating architects including Joe Morris, co-founder of Duggan Morris, Timo Haedrich, a director of Haptic Architects, Louisa Beaven and Mark Williams-Jones of Robin Partington & Partners, Chris Dyson, Matthew Bugg of Make, Matt Colclough and Daniel Jackson of AHR, Peter Morris and Ceri Davies of AHMM, Tim Bell, co-founder of Bell Phillips Architects, Alexandra McCartney of Hopkins Architects, David Liddicoat of Liddicoat & Goldhill, Sandy Morrison of HTA Design and Geoff Rich of Feilden Clegg Bradley Studios.
They were welcomed by family and friends, as well as recent Paris-Nice winner Geraint Thomas from Team Sky.
Bill Hughes, head of LGIM Real Assets, said the past six days had been exhausting, but the team rose to the challenge despite some "frosty starts".
Postscript:
You can donate here