Make-designed sustainable footballer's house goes for planning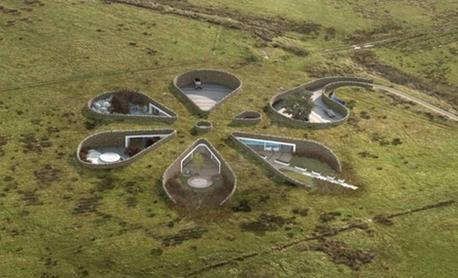 Make Architects has designed this ultra-sustainable home for England and Manchester United footballer Gary Neville.
Plans for the house, which have taken three years to perfect, have now been submitted to Bolton Council.
The 8,000 sq ft property will be built in the Pennines, and – subject to approval – would become the first carbon neutral home in the north west, according to the practice.
The four bedroom house is designed with a kitchen at its heart, and several wings – with titles like "eat", "relax", "entertain", "work", "sleep" and "play" - spanning off it like the petals of a flower.
It is to be built on a single level, and has been likened to the Skara Brae Neolithic settlement in Orkney, because of the way it is built into the hillside.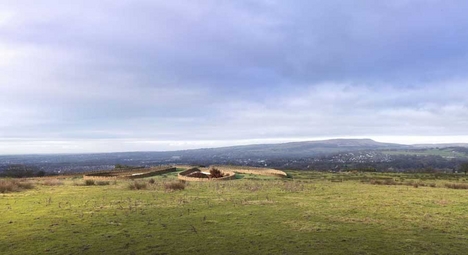 Neville, 34, plans to build the property on the site of an entire 18th century farming hamlet which he bought for himself and his wife, Emma four years ago.
The couple have already built a 12-bedroom family home on the site, known locally as Top O' Th' Knotts.
Stuart Fraser, partner at Make said: "The client has been heavily involved in the design process and is passionate about preserving the natural beauty of this area.
"High quality design was a driving factor but the opportunity to deliver a home of the utmost environmental efficiency was identified from the outset.
"It has been a privilege to be given a brief which has allowed us to truly test the boundaries of current sustainable thinking in terms of design and construction and to work alongside some leading experts in this field. "
A wind turbine will provide power for the property itself and a neighbouring house, while covering much of the house in a green roof of meadow grasses and wildflowers will reduce energy usage.
The property, which also features solar panels and a ground source heat pump, is on green belt land but it is understood that the team hopes that it will be allowed to go ahead because it falls into the category of being "truly outstanding and ground breaking".
The scheme has already been selected as an exemplar project within the government's 'Planning Performance Agreements for Renewable and Low Carbon Energy Schemes' programme.
If planning permission be granted, preliminary construction work is expected to start later this year.