Make and McAslan on shortlist to bulldoze Carpenters Estate
UCL shortlist for £1bn east London campus also includes Aecom and Farrells
Make, Hopkins, John McAslan and Partners, Farrells and Aecom have been shortlisted to develop UCL's £1 billion masterplan for its proposed campus in east London.
UCL's plan is for a new academic quarter focusing on postgraduate research activity alongside housing and community facilities.
But the proposals are proving controversial as they include the demolition of the Carpenters Estate, which sits adjacent to the Olympic Park and the Startford station, where some 318 families still live.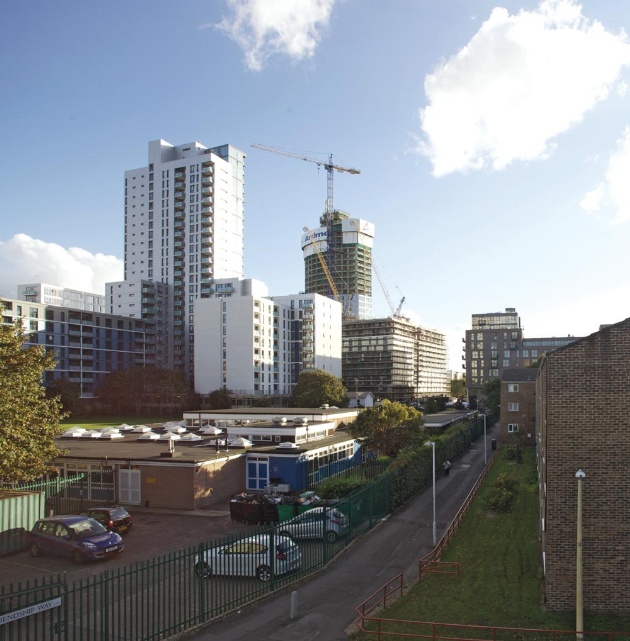 Source: Miguel Santa Clara
Andrew Grainger, director of UCL Estates said: "It is absolutely essential that our proposals for Stratford provide real and tangible benefits for local communities.
"To this end we want local resident, community groups, businesses and other stakeholders to participate in the design process. So what we're looking for from our shortlisted firms are proposals that are ambitious and developed through approaches that are truly open and collaborative".
Adam Harman, project director for UCL Stratford, added: "We are delighted to have had such high quality responses from so many exceptional companies who have a wealth of international experience and are capable of delivering a sustainable quarter that would support UCL's academic, research and enterprise activities now and in the future."
Tenders are to be submitted by March 1 and successful firms will be notified by April. The current timetable would see a draft masterplan prepared by the end of this year, with the delivery of a final version coming in 2014, to support a planning application for the site.
Lifschutz Davidson Sandilands worked on an earlier feasibility study for the site.
Postscript:
This story has been amended from an earlier version stating there are plans to move the Bartlett to the new Stratford campus. UCL has been in touch to say that is not the case.