Herzog & de Meuron reveals design for Madrid bank HQ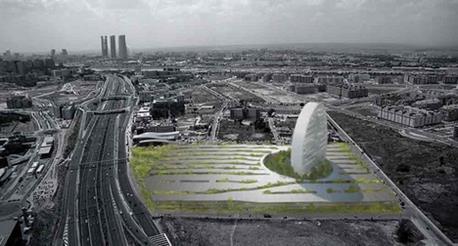 Herzog & de Meuron has unveiled designs for the Madrid headquarters of Spanish bank BBVA.
The design concept proposes creating a small city and artificial oasis on a site on the outskirts of the city, described by the architects as a "desert-like" space.
Herzog & de Meuron's scheme consists of a series of long thin three-storey buildings separated by alleyways and gardens intended to recreate the effect of an Arabian garden across the site. Each window will offer workers a "green" view.
The main building has been cut out of the carpet created by the scheme and tilted upwards to create a circular plaza and tower.
Lift use will be discouraged in the building, which is low-rise and transparent to help foster a sense of community.
The 100,000sq m building is due for completion in 2013.