House prices to fall another 1% in 2013
Hometrack prediction conflicts with RICS forecast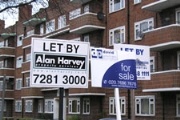 House prices are set to decline for a third consecutive year in 2013 by a further 1%, according to analysts Hometrack.
House prices have ended this year 0.3% down as two-thirds of the country saw prices drop, but the property market has still held up better than 2011.
Hometrack's December survey shows 20% of postcodes registered price increases in 2012, but falls were recorded across 66% of the country. This means the average house price has ended the year down 0.3% over the 12 months to December, but is still far less of a decline than the 2.3% fall in 2011.
Richard Donnell, director of research at Hometrack, said: "The underlying trend of prices falling in more areas than rising has been well established for the last 26 months and we expect this to continue over the year ahead.
"We forecast national house prices to drift lower over 2013 with prices falling by 1%."
The Hometrack forecast conflicts with RICS' more optimistic forecasts for the housing market in 2013.
The RICS said this month that house prices will increase by 2% next year, the cost of renting a home will go up 4% and the number of transactions will rise just over 3% from 930,000 this year to 960,000.