Glasgow School of Art director to step down
Seona Reid will leave after 14 years
The director of the Glasgow School of Art is stepping down next summer after 14 years in the post.
Professor Seona Reid was appointed back in 1999 and in her time has seen the school open an office in Beijing to recruit Chinese students and earlier this year unveiled an outpost in Singapore to teach students out there.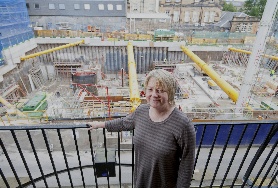 Reid was also behind proposals to redevelop the school's estate which will see the new £50 million Mackintosh building by Steven Holl completed next autumn. This is being built on the site of former 1960s buildings owned by the school that were deemed no longer fit for purpose.
The second, smaller phase of the school's redevelopment is due to be announced at the end of the month.
Reid, who is also deputy chair of the Heritage Lottery Fund, said: "[The job] can sometimes be a rollercoaster but it is always stimulating, stretching and full of personal and professional fulfilment."
A successor to Reid will be announced next spring with the Glasgow School of Art's chair of governors Philip Rodney promising the search to replace her will be an international one.