First images of Taiwan architect-designed villas released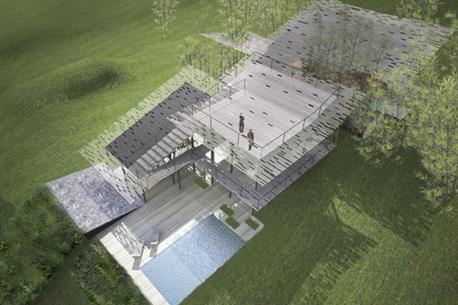 MVRDV, Kengo Kuma and Julien De Smedt are among the 20 architects designing 20 villas on the island of Taiwan.
The Spaniard Fernando Menis, Berlin and LA based Graft, as well as 10 Taiwanese practices are among the other architects taking part.
The first images of their designs for Next-Gene20 have now been released.
Kengo Kuma's villa is named Aimai after the Japanese word for something mysterious.
"Aimai is the main concept for the house," Kuma says. "It is a Japanese word that describes an ambiguous condition and matter. Since there is no definite boundary between interior and exterior, natural and artificial, the house and nature blend gradually into each other. By following the rich landform of the site and creating an edgeless roof, the existence of the house almost disappears."
Julien De Smedt ties his building to the landscape by means of a spatial system where rooms are, he says, like artificial waves with each wave transforming itself into a room or a panoramic viewpoint.
"We have decided to create architecture out of nature," De Smedt adds. "We have designed a house that manipulates the landscape without adding anything to it. A house in symbiosis with its environment. A house that celebrates views and protects itself from being viewed."
Construction is due to begin in July with the houses completed by December 2009.