Develop open land for housing, says minister
Nick Boles outlines plans to develop a third more of Britain's land
Development must take place on open land if Britain is to tackle its housing shortage, planning minister Nick Boles has said.
The recently appointed Conservative minister told the BBC that it would be necessary to develop a third more of Britain's land over the next 20 years.
"In the UK, about 9% of land is developed in any way," he said. "That's 91% that is not. All we need to do is build on maybe 2-3% over the next 20 years.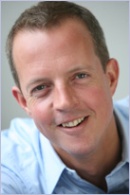 Boles said that doing so would mean another one to two million houses being built. He described people who were anti-development as "selfish" and accused them of ignoring the housing needs of their children and grandchildren.
The minister added that the built environment could be more beautiful than the countryside, but conceded too many "pig ugly" housing estates had been built in recent years.
He stressed that the government was committed to protecting the countryside. "We're going to protect the green belt," he said. "But people, if they want to have housing for their kids, if they want to bring up their kids in a small house with a garden, they have got to accept we've got to build more on some open land."
The comments look likely to re-open a rift between the government and the countryside lobby, which has campaigned vociferously against the liberalisation of planning laws.
But the pro-development sentiment will be welcomed by house builders, who this week urged chancellor George Osborne to include initiatives to boost construction in next Wednesay's autumn statement by chancellor George Osborne.
The Home Builders Federation wants the government to free up mortgage lending, expand the definition of affordable housing, crack down on onerous planning conditions and pledge more money to kickstart stalled housing schemes.
Stewart Baseley, executive chairman of the federation, said: "This is a critical opportunity for the government to demonstrate once again its commitment to increase housing supply and boost the economy.
"Over the past year it has introduced a range of positive measures, but more needs to be done to refine those schemes and address other obstacles to home building."