David Chipperfield: 'In London there is no discussion about what the city should look like'
On the eve of the 2011 RIBA Gold Medal presentation, this year's winner gives Ellis Woodman a preview of his lecture
After 20, increasingly cramped, years based in their self-designed office in Camden Town, the now 100-strong staff of David Chipperfield Architects' London operation finally moved to larger premises last month. They have taken up residence on two floors of Elizabeth House in Waterloo – a building that, if all goes to plan, Chelsfield and London & Regional should be demolishing in a couple of years to make way for a proposal that Chipperfield's is itself in the process of designing.
The move is just the latest indication that this architect, whose career has so largely been played out abroad, is at last being presented with serious opportunities in the UK. In April, the Turner Contemporary in Margate is set to open, followed a month later by the Hepworth in Wakefield – the first public buildings the practice has realised in Britain since the Henley River & Rowing Museum in 1998.
Two substantial houses in Oxfordshire and another next to the Brompton Oratory are under way. Further down the line, expansions of the Royal Academy and Geffrye Museum and the remodelling of a building at Piccadilly Circus to create a five-star hotel are set to expand the firm's portfolio of UK work dramatically.
If any doubt remains about Chipperfield's new-found place at the top table of the British architectural establishment, it should be dispensed with next Wednesday when he takes receipt of the Royal Gold Medal. And yet, when I meet him at his apartment just a few doors down from the RIBA, it is clear that he is not quite ready to lose his outsider's perspective.
A blizzard of handwritten notes applied to the cabinets that encompass his study attests to the fact he has been honing the contents of his Gold Medal speech for the past couple of weeks. It has a title – Searching for Substance – but is still some way off settling into a final draft. "There is a point where one worries about always coming across as a grumpy old man," he jokes.
Nonetheless, the years of exile have clearly sharpened his take on the way the UK approaches the making of architecture and that concern seems certain to be a central focus of the lecture. In particular, our conversation returns repeatedly to the difficulty of working in a culture that has abdicated responsibility for the maintenance of urban form.
"It has been a strange tale of two cities for me," he says, "running a pair of offices – one in Berlin where everyone talks about every block and there is no commercial imperative to do anything and the other in London where there is an enormous amount of development and absolutely no discussion about what the city should look like.
"Now we work in Waterloo and when I look out the window I can't honestly say the city looks good. Is it exciting? In a way. That amount of life and development inevitably has a quality but we are not talking about architecture anymore."
He points to the City of London as the locus of Britain's laissez-faire planning culture. "The heart of development here is the City and the conventional rules of discussing architecture are confused there because of the almost industrial nature of the product. It's like building at Heathrow. There are determined criteria that can't really be questioned. At Heathrow, it might be:'We need to be able to get the bags from here to here'. In the City, it's always: 'If we don't allow development we are going to lose out to Frankfurt.'"
A happier model, he suggests, is offered by the London borough of Kensington & Chelsea, on whose design review panel he sits. "In the 18 months the committee has been in existence, I have seen an enormous change in spirit. Suddenly everyone understands that if you speak plainly you can assess projects objectively and escape this false opposition between conservation and development. What you are usually stuck with in Britain is development control – something that always sounds horribly like vermin control to me."
Chipperfield's complaint about the UK's failure to maintain a meaningful discussion about architectural and urban value is as much to do with the social as aesthetic consequences that result from that vacuum. He argues that in a culture that fails to uphold common criteria against which buildings can be assessed, citizens are inevitably disempowered.
"We know that everything is being done consensually and in the name of the collective, but as individuals we don't understand it," he says. "Even I, as an architect, have not the first idea how all this development is going on. If we lived in a village and someone painted their door red, we'd all have an opinion about it but in a city like London, we have basically given that up."
Development control always sounds horribly like vermin control to me
This, notably, is coming from an architect whose proposal for a £420 million redevelopment of Berlin's dilapidated Ku'damm Karree shopping centre survived a fiercely contested public referendum last month. The opposition was in large part inherited – Chipperfield having been drafted in to rescue the project after an earlier scheme had been universally trashed. He stands by his project but is by no means unsympathetic to the protesters' cause.
"The original scheme basically represented a collision between an Anglo-Saxon developer [Dublin-based Ballymore] and a belligerent city," he explains.
"Ballymore made the Anglo-Saxon threat of saying: 'if you don't let us do what we want, we'll take our money elsewhere and the building can stay like this.' Well, it fell completely on deaf ears. In Berlin, there is still a principle that it's not development at any cost. They still think there is a shape to their city."
He attributes his practice's success in turning this situation around to the fact that it tabled a scheme framed in recognisable urban terms.
"We were talking about conventional urban things like a passage, a square, a street, a street facade and we got a round of applause from the city council – finally they were hearing a discussion about the city."
In Britain, he sees the need to reclaim this discussion from "fogeys who say that we should all live in neo-Georgian houses" as particularly urgent.
"Talking about convention has become an abused position to the point that, as an architect working here, it has almost become easier to do something weird," he says.
"And that suck towards novelty has made the conversation about architecture more difficult. You need conventions because without them you can't judge. If we say that what the city should look like has nothing to do with conventional judgement then how are we to engage with it? All we are left to do is wander around and be amazed."
Chipperfield buildings completing in the UK this year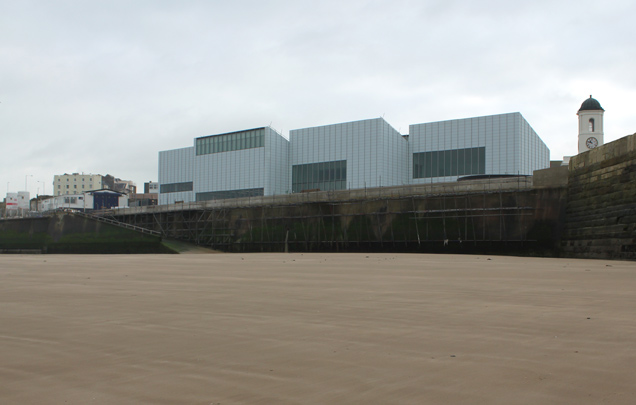 Source: Holger Mattes
Turner Contemporary, Margate
Chipperfield's £17.5 million gallery replaces an earlier proposal, by architects Snøhetta and Spence, which was abandoned because of technical difficulties and escalating costs. The scheme comprises six interlocking forms, the distinctive roofline of which is angled to draw north light into the galleries. The first exhibition, Revealed: Turner Contemporary Opens is set to open on April 16.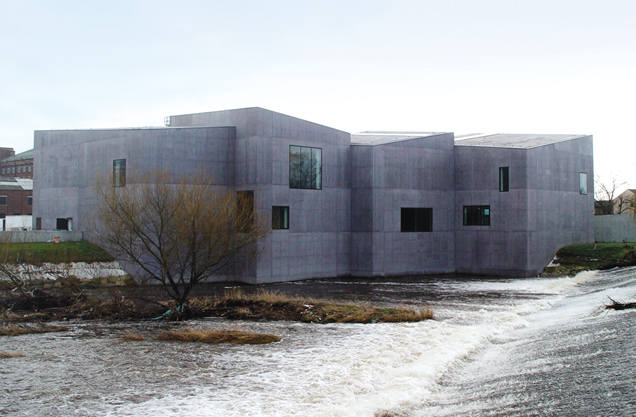 Source: Rik Nys
The Hepworth, Wakefield
Opening in May, this will be the largest purpose-built gallery outside London. Situated on Wakefield's waterfront, the building (pictured below) will exhibit for the first time a unique collection of sculptures by Barbara Hepworth – who was born in the town – alongside a programme of international contemporary art exhibitions.