Conservationist outrage over removed Paolozzi
Bespoke statue on sale at auction
The removal of a major piece of public art by the artist Eduardo Paolozzi has caused outrage among conservationists.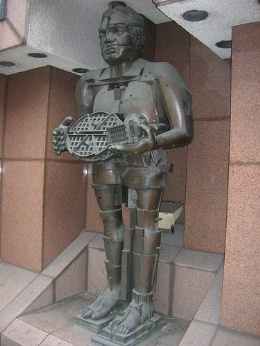 The giant bronze statue was commissioned 25 years ago by the London and Paris Property Group for the front facade of an office building on High Holborn designed by DY Davies.
It was removed by the building's owners last week and is now set for auction at Bonhams at an estimated price of £150,000 to £250,000.
Conservationists worry that this could set a dangerous precedent for similar works of art.
The Twentieth Society said that the statue, which is a self-portrait of the artist as Greek god Hephaestus, will leave a huge void in the principle ground floor facade, for which it once took up a third of the space at eye-level.
In addition, the statue and building are part of a conservation area in the Borough of Camden, raising queries as to whether conservation area consent is needed to remove the sculpture entirely.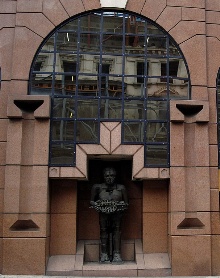 Henrietta  Billings, senior conservation adviser at the Twentieth Century Society, said: "This is public art that has been on display on our streets for 25 years. It is shocking that statues like these on public display, by one of Britain's most significant 20th century artists, can be removed and sold off to the highest bidder."
The Twentieth Century Society is urging Camden Council to take immediate action to ensure the restoration of the 2.5m sculpture back into the public realm. They have also contacted Bonhams to request the withdrawal of the statue from sale.
A spokesperson for Bonhams added: "We are taking various views on the statue into consideration. It is currently in our 20th century art sale on the 14th November. It is under review at the moment but we don't see that there's any reason why we would have to cancel the sale."