City Hall bigwig backs off-site housing push
Planning committee chair Nicky Gavron warns London is lagging behind UK regions in method
One of London's most influential politicians has pledged her support to off-site manufacturing as a means to ramp up housebuilding and tackle the capital's housing crisis.
Nicky Gavron (pictured), chair of the Greater London Assembly's planning committee, which scrutinises mayor Sadiq Khan's housing policies and planning decisions, told an event hosted by Levitt Bernstein that factory-built solutions could "usher in a new era in housing design and construction".
With thousands of people in temporary accommodation across London, Gavron said the need for well-built, affordable and energy-efficient homes was more pressing than ever, and off-site manufactured accommodation could play an important role in responding to the problem.
Gavron said the Rogers Stirk Harbour & Partners-designed development of 24 temporary dwellings in Ladywell, south-east London, proved that off-site housing could be built to a high standard, help reduce energy bills and drastically cut construction costs.
But she warned the capital was lagging behind other regions in the UK, with barriers to progress including the negative perception of what many still regarded as 'prefab housing' and what she called a "lack of continuity of demand".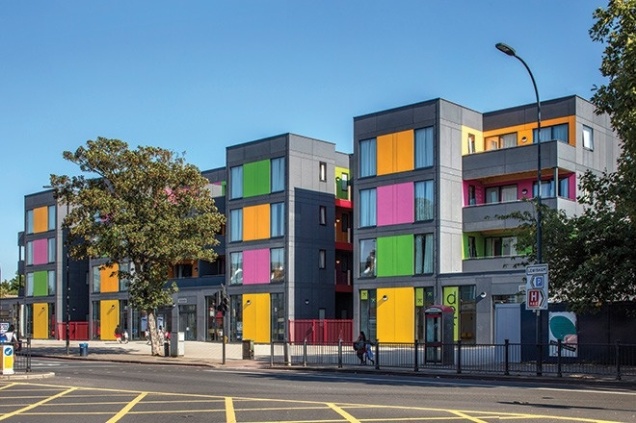 Gavron said the development of off-site factories were important. "Councils and developers could have 'pop-up' factories, for example located by the river Thames" – although she acknowledged it was more likely that such production facilities would be built elsewhere.
She added: "We need a change of mindset. We need to be learning from other industries and seeing leadership at every level. There also needs to be greater collaboration, both within industry and between industry and the mayor."
Gavron also suggested the mayor could "step in and support factories to keep them going" with Swan Housing Group development director Andy Gatrell adding that mayoral support was needed.
He said there were not many factories in production "for good reasons", including set-up costs and overall risk to the venture. "Grants, financial incentives or provision of land for factories would be good," he added.
Swan is working with architects BPTW and Pollard Thomas Edwards to revamp a rundown Essex estate with factory-built homes. All the new homes will be manufactured at a factory in Basildon with the firm due to ship out the first homes to the renamed Craylands Estate in Basildon later this summer.