Chipperfield hits back at Geffrye Museum decision
Committee has 'torpedoed' museum's plans, practice says
David Chipperfield Architects has attacked the way Hackney's planning committee unexpectedly rejected its proposals for the Geffrye Museum.
Communications director Rik Nys described parts of the meeting as "bizarre" and said the decision had "torpedoed" the entire scheme because lottery funding was effectively contingent on planning consent.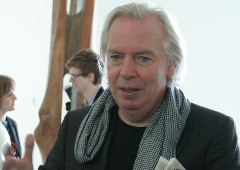 Source: Anna Winston
The committee overruled its officers on Wednesday night to throw out the plans for an £18.9 million extension which would have included the controversial demolition of a former Victorian pub.
Members said they were unconvinced the extension "wouldn't cause substantial harm" to the 18th-century almshouses that house the museum.
Geffrye director David Dewing said they were "bitterly disappointed" and were considering their options, including whether to appeal.
He said the decision "denies the essential progress which keeps great cities vibrant and dynamic".
Nys said it was too early to decide whether to appeal but he criticised the "naive level" of the committee's debate, in particular objections to a covered walkway.
"It was rather bizarre that the chairman made it clear he was against the scheme before asking for a vote," he said.
"My personal understanding is that they were then struggling to justify their decision. No one came forward with a very clear answer."
He complained that the chairman had only visited the museum once, when it was shut, and described as "very strange" one officer's declaration that he preferred a previous version of the scheme.
"[Hackney] have really torpedoed the whole initiative," he said. "For the museum it will be something that will take a long time to get over, on many levels.
"It's very sad that so many people have worked for four years so intensively and with so many different organisations for them to be rebuffed on the basis of overly simplistic representations."
Nys said the museum was too "impoverished" to go back to the drawing board, effectively scuppering the entire project.The Heritage Lottery Fund gave initial support for a £10.9 million bid in 2011, including £518,500 of development funding. The museum was due to submit its full funding application this year.