Campaign aims to save Goldfinger housing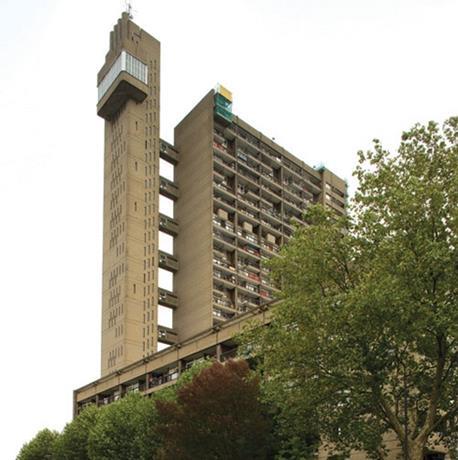 Residents and heritage groups are leading a campaign to head off a potential demolition threat to a Goldfinger-designed housing estate beside Trellick Tower in west London.
Kensington & Chelsea council announced in its business plan last month that the Cheltenham Estate and Edenham Way in north Kensington, part of the original Trellick Tower complex, were being considered for development, one of its options for dealing with its housing stock.
It has commissioned Terry Farrell & Partners to conduct a feasibility study, sparking fears that the estate will be demolished after the neighbouring care home, also part of the Erno Goldfinger complex, was demolished last year.
A petition calling for the council to scrap any redevelopment plans and create a conservation area around the social housing has already attracted more than 300 signatures including those of Alan Powers, chair of the Twentieth Century Society, and James Dunnett, head of modern architecture heritage group Docomomo.
Dunnett said: "There are only two housing estates by Goldfinger — around Trellick and around Balfron [tower] — and we should recognise them for what they are and protect them."
David Prout, executive director for planning and development at Kensington & Chelsea, said the council had also commissioned Urban Initiatives to carry out a similar study on an area known as Notting Barns.
"We've asked them to look at the feasibility of improving the living conditions of those areas and the viability of potential redevelopment to overcome the difficulties with housing across Kensington & Chelsea as a whole.
"Genuinely, no decisions have been taken other than that we have to think harder about what to do. We're very alive to the fact that local residents will have strong views."
But Jon Wright, caseworker at the Twentieth Century Society, said he was "deeply concerned" by the Farrell feasibility study.
"We'll see if any of the buildings there can be listed, and we'll work with the local residents on their campaign," he said.
"I'm really surprised [the council] is even looking at this. This is really good housing designed by a world-class architect who knew what he was doing. There's also a really good community there which wants to stay."
Council tenant Angie Fletcher, who was among the first tenants to move into the estate, said: "It takes a lifetime to build up a community like this. They'd have to carry me out in a box — there's no way I'm going easily.
"These houses are structurally sound and could last another 1,000 years. We don't need knocking down and replacing."
And Aisha Mohammad, president of the residents' association, said: "If there was a way we could buy this estate, we would buy it and run it ourselves. It's the perfect example of a sustainable community."