Blair Associates to design Admiralty Arch hotel conversion
London practice appointed to oversee renovation of London landmark
Blair Associates has designed plans to convert the grade I listed London landmark Admiralty Arch into a luxury hotel.
The gateway between Trafalgar Square and The Mall has been leased by the government to Prime Investors Capital for £60 million.
Prime Investors Capital, owned by Spanish developer Rafael Serrano, intends to use the 99-year lease to renovate the building and open a 100-bedroom hotel.
Blair Associates' portfolio includes several London luxury hotels which include renovations of Claridge's, The Connaught and The Ritz, as well as the renovation of Burlington Arcade.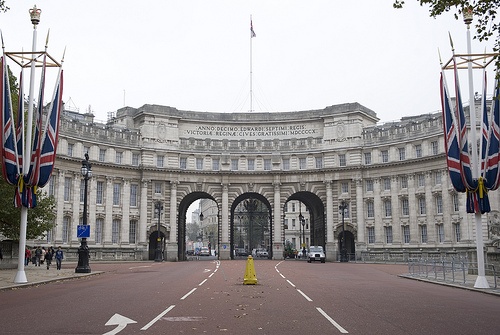 The practice is working on its proposals with Christopher Miele at English Heritage, who has advised on projects including Westminster Abbey, The V&A and The British Museum.
The Cabinet Office, which oversaw the deal, said the building is currently empty and has never previously been open to the public.
Nigel Barker, head of development management for English Heritage, said: "This grade-I listed building was completed in 1912 as offices for the Admiralty, incorporating the residence of the First Sea Lord.
"The proposed conversion to hotel use would allow a degree of public access to the fine interiors, as well as ensuring the conservation of the building to a high standard.  The external appearance of this prominent London landmark would be left almost unchanged."
A planning application is expected to be submitted to Westminster City Council early next year.
The lease has been agreed as part of a government programme led by Cabinet Office minister Francis Maude aimed at unlocking value in the public sector estate.
Maude said: "At present Admiralty Arch is not being used and is costing £900,000 a year to run. Rather than letting it fall into disrepair we are taking action. 
"British specialists will work closely with English Heritage and Westminster Council to bring the Arch back to life. The restoration will bring jobs to London and beyond.
"The freehold of the building will remain in the hands of the public, ensuring they have a say in the future of this building forever."