Architects help rethink self-build
Industry professionals back UK Green Building Council proposals to change the way self-build is carried out in the UK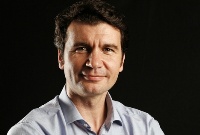 Architects have backed proposals by the UK Green Building Council for a range of self-build services aimed at boosting the UK's sustainable housing stock.
The proposals, called You Design & Build, suggest a change to the way self-build is carried out in the UK. Home-buyers could be offered an "end-to-end home design and development" service, with customers able to choose from a range of design options. The offer can be pitched anywhere between the traditional self-build route and volume housebuilding.
UK-GBC chief executive Paul King said: "We think you could greatly expand and broaden what we currently define as the self-build market. At one end there could be mass customisation, at the other individual design and build with an integrated supply chain."
King suggested design firms might create online tools allowing buyers to make choices using a form of self-build bim.
Rab Bennetts, director at Bennetts Associates, said he believed increasing buyers' involvement in the design process would lead to more sustainable choices.
"How can you make greener homes? The self-build movement has a very good track record on that. Could there be a way of scaling it up with a housebuilder?" he said. "There needs to be a different mindset on how to produce houses if they are going to be more tailor-made and sustainable."
The UK-GBC believes the You Design & Build concept could account for up to half of the self-build market.
You could greatly expand what we currently define as the self-build market

Paul King
Chris Wilford, associate director at PRP, said: "This programme is about offering an alternative development route to the traditional system. It's about trying to broaden the market, get it scaled up and close the affordability gap."
The proposal is one of five concepts outlined in the UK-GBC's A Plan for Growth report, produced with practices including EPR Architects and Exploration Architecture. Other ideas include establishing an online portal for buyers or renters interested in green properties and an initiative aimed at reducing corporate occupiers' space requirements.