Where are architecture's Bravehearts?
Talk of independence omits Scotland's built environment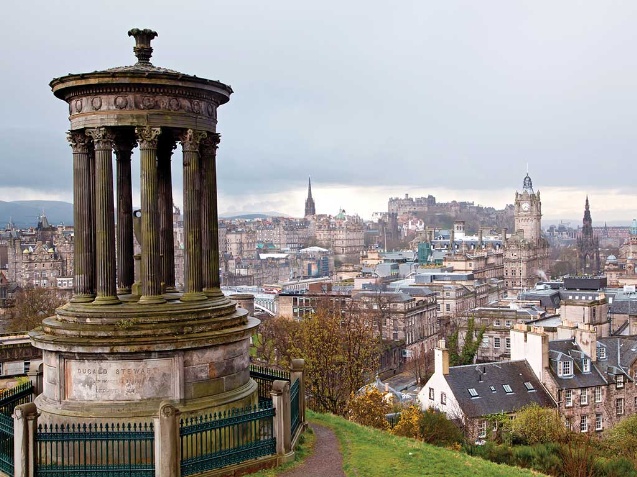 Source: Vichie81/Shutterstock
On September 18, Scotland goes to the polls to decide if it wants to end its 307- year Union with England. What happens is still anyone's guess, but whatever the result, Scotland is going to get more Scottish.
The pro-independence Yes campaign set out its stall in detail at the end of 2013 in Scotland's Future, a 670-page wish list. It talked much of democracy and of community, familiar terms to anyone who has followed the SNP's journey over the past decade from Irish-style free-market buccaneers to worthy Nordic communitarians.
But precisely what this future Scotland would look like remains obscure. Scotland's Future contains nothing at all on architecture. Nothing. The word "architecture" doesn't appear once in its pages, nor "urbanism". "Urban" appears a mere three times, "city" just four. I perked up when I found 86 references to "design", but soon discovered its use was only in relation to arrangements for collecting tax. A short section on "housing" illustrated a sandstone tenement from Glasgow's West End, glinting in rare sunshine, but there was nothing here to suggest that housing might need designing.
It's an odd stance given the context. Edinburgh and Glasgow are magnificent cities, among Europe's richest architectural set pieces. Edinburgh, in particular, represents a still powerful idea of civilisation: for all its faults, it really is the Enlightenment in stone. For Penny Lewis, an Aberdeen-based professor of architecture and the former editor of Prospect: Architecture Scotland, the Yes campaign's indifference isn't, however, a surprise. The SNP has long made a virtue out of philistinism, she says. Its power base lies outside the cities in what were traditionally Tory, rural constituencies. It doesn't really "get" cities. It is suspicious of art.
While the Yes campaign is oddly silent on architecture, the Scottish government has been quite busy (as well it might: it has no less than 10 people in its Architecture Unit). There have been pronouncements on architecture of course, such as Creating Places, published in June 2013. A document of quite surpassing dullness, it does at least acknowledge the role of design. As Neil Gillespie, a director of Reiach & Hall, admits, the Scottish government does "say all the right things".
On the ground, however, the government doesn't always do the right things, or indeed anything much at all. One area Gillespie would like help with is procurement. Still governed by fee alone, it means a race to the bottom. It's the "worst procurement process in the UK", says one prominent architect, who wishes to remain anonymous. "Builders choose the architects and current fee levels are down to about 1.5%."
The word 'architecture' doesn't appear once in the 670 pages of Scotland's Future
It's a culture institutionalised by the Scottish Futures Trust, a quango set up to ensure public projects are delivered as cheaply as possible. Run by lawyers and bankers on behalf of the government, it ensures architecture is judged by cost alone.
Beyond government, however, there is a hard-to-identify, but real, culture of risk-aversion that inhibits building. Scotland's economy might be the UK's most resilient outside the South-east. But walk up any of Edinburgh's hills, and you don't see much evidence of it. It's a landscape that has barely changed in a century. Rivers of money flowed through the city in the 2000s, but little of it left a trace — certainly not compared to the brash legacies to be found in London or Manchester.
Historic Scotland is one issue. It has jurisdiction over a huge number of buildings, but is tasked with preventing change, not enabling it. "Charming people", says an Edinburgh-based architect, "but completely out of their depth."
Euan Leitch, of the professional association Built Environment Forum Scotland (BEFS) notes the strength of the local heritage lobby — but also the reluctance of developers to build. The recession was "very cold indeed", says Gillespie, and developers' preference to sit on land hasn't helped. Tellingly, neither he, nor his peers speak of commercial projects. It sometimes feels that, north of the border, the private sector doesn't exist.
In this strange, post-recession, pre-referendum landscape, Scottish architecture tends to the small and tentative. With little cash flowing, and an uncertain political landscape, it's hard to be bold.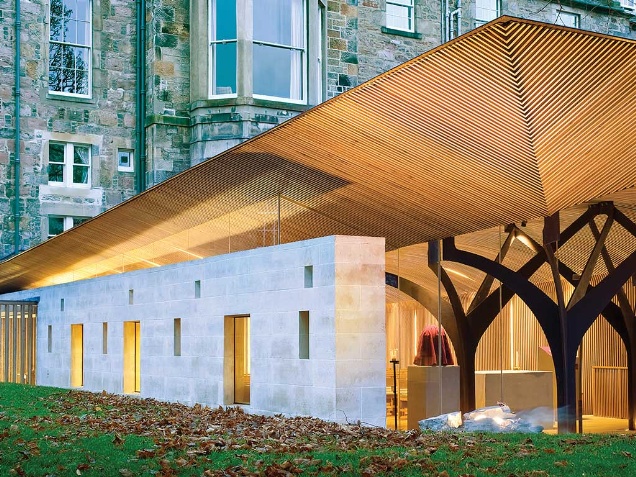 Source: Chris Humphreys
So one of 2013's most admired buildings in Scotland was also one of its smallest: Simpson & Brown's chapel of St Albert the Great, which may be found, with persistence, in the back yard of a 1768 house on Edinburgh's south side. It's a tiny modernist pavilion done in Portland stone, with a roof in wood supported by a forest of columns. The west end is entirely glazed. A clerestory strip window provides illumination, but also the agreeable illusion of a floating roof. At night, it's an otherworldly, but warm, presence. One of the best of any recent buildings, it's also tiny, and — typically in this most private of cities — it doesn't announce itself. You just have to know it's there.
St Albert is indicative of present-day architecture culture in the city, and across Scotland in general — small-scale refurbishments or additions, deferential to their surroundings and essentially hidden from view. Architect Malcolm Fraser's recent work in the capital is a case in point. His Centre for Carbon Innovation for the University of Edinburgh adds a two-storey glazed pavilion to a former school, but it is basically a straight refurbishment, albeit a stylish one. Like the Simpson & Brown chapel, you have to go hunting for it.
Foster & Partners' slow-moving Quartermile development on the site of the old Edinburgh Royal Infirmary has added only one new building since 2009, a housing association block by Richard Murphy, completed in July. While more apartments are now on site, Quartermile still feels hung over.
Meanwhile, the Scottish Parliament, that weirdly baroque campus at the end of the Royal Mile just looks odd. Twelve years on, it's a great tourist attraction, perhaps because it inadvertently plays to the Hogwarts gothic that so permeates the popular imagination of Scotland. But nothing of this scale or grandeur has been built in Scotland since 2001. Enric Miralles' Celtic fantasy, it now seems, is simply that, a fantasy, incapable of repetition.
Scotland isn't building anything because it doesn't yet know what to build
Part of this inertia is financial. But the larger part of it is arguably cultural. Scotland isn't building anything because it doesn't yet know what to build. Here's a thought: at the height of the boom in 2005, the megalomaniac Royal Bank of Scotland built a 33,000sq m headquarters at Gogarburn near Edinburgh's airport, designed by Michael Laird Architects and RHWL. Yet you'd hardly know it was there, so deferential it is to its surroundings. Institutions of that kind rarely wish to be invisible, especially when they're raking in the cash. RBS's invisibility speaks of a strange lack of confidence at a time when you would expect the opposite.
This weirdly inert architectural landscape encourages reflection on the past, rather than the future. Scotland is awash with heritage organisations, so many and so powerful it's a wonder anything gets built at all. So it's no surprise to find Andrés Duany has a foothold. As Stacey Hunter, an Edinburgh University researcher argues, New Urbanism seems to have the government's Architecture Unit in its thrall. The unit certainly loves that community-planning charade, the charette — it published a how-to guide in 2013. Tornagrain, a proposed major extension to Inverness masterplanned by Duany, is effectively Celebration (Disney's Florida new town), transplanted to 57 degrees north.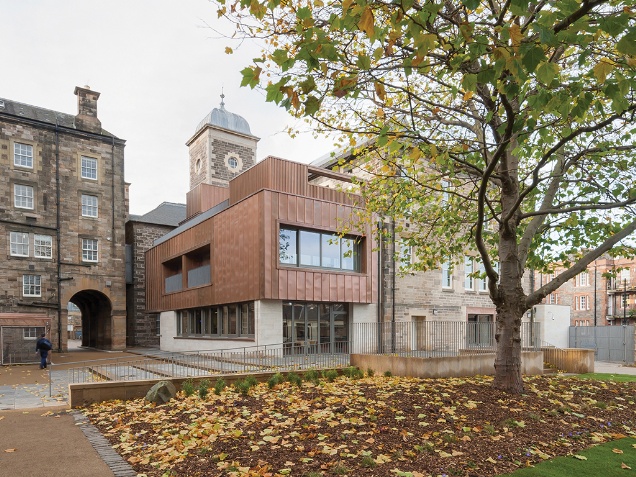 Source: Dave Morris
Fraser is troubled by this, not just for the unusual influence New Urbanism seems to have, but its rootedness in market solutions. His vision recovers the radical humanism of the early modern movement. "Homes and communities," he says, are what is important. "We will not all get mortgages." We should be "caring, repairing and reusing old buildings, and building new communities built around the utilitarian ideals of sunshine and shared space".
Fraser is certainly not alone in his communitarianism. But such a vision isn't on offer at present, from either Yes or No camps. Nor is a vigorous private sector, at least one that wants to build. In the absence of large-scale projects, many architects in Scotland have found their imagination captured once again by a ruin. Gillespie Kidd & Coia's St Peter's Seminary at Cardross (1961-66) is one of the sights of modern Scotland: a huge neo-Corbusian palace, overcome by the most spectacular decay. Long a pilgrimage site for artists and JG Ballard enthusiasts, it has attracted increasingly widespread interest.
All plans for reuse now having fallen by the wayside, an enterprising group of Arts and Humanities Research Council-funded Scottish academics, have made steps towards stabilising it as a folly. The Invisible College is a clever project, and a timely one. If, as it seems, we can't expect the built environment in Scotland to change anytime soon, we should get used to the one we have.
Postscript:
Richard J Williams is Professor of Visual Cultures at the University of Edinburgh. His latest book is Sex and Buildings, published by Reaktion in 2013