Paul Karakusevic: 'It's about building to a high quality'
Karakusevic Carson's passion for improving public housing is winning through, even in times of austerity
Paul Karakusevic of Karakusevic Carson is on something of a mission to eradicate the "meanness" that has characterised so much public housing.
"We're passionate about improving housing design. It's been so overlooked for so long and residents have been experimented on for too long," he says with a zeal that reflects the practice's early decision to eschew private house extensions and focus instead on public work and in particular, housing. "In the UK, so little good has been built."
Karakusevic trained at the Royal College of Art and the University of Manchester and set up in practice 15 years ago, forming Karakusevic Carson in 2004 with Iain Carson, whom he met when working for Zaha Hadid on the Cardiff Bay Opera House.
Now 24-strong, the Clerkenwell practice is fast growing in stature, winning the BD Housing Architect of the Year Award shortly after completing its first major estate project, the 77-unit Claredale Street on the Mansford Estate in Bethnal Green, east London. Karakusevic Carson landed the job seven years ago because of its willingness to take a risk by responding to a Tower Hamlets Community Housing brief for two new homes by proposing an estate-wide plan for 180 new units. The gamble paid off and turned into a major break for the practice, which ended up with eight separate projects on the estate.
Karakusevic is thankful that the practice concentrated so early on housing, enabling it to gain the vital track record in built housing projects so crucial for meeting today's increasingly exacting prequalification requirements.
"We're absolutely focused… if you're not a specialist, there's no hope," he says.
But if you do have the experience, it's a great time to be a housing specialist, reckons Karakusevic, despite estimating that budgets have been cut by 25-30% within the last three years or so. He thinks that framework agreements can mean more opportunities for a broader range of practices to gain work, unlike a generation ago when a handful of housing architects dominated.
"The austerity drive might push quality up as local authorities want whatever they do build to be of the highest possible quality. Before, it was all about numbers," he says. "Informed clients are really pushing for high quality although they may be doing a lot less."
Quality is hugely important to Karakusevic, who is determined to help address the wrongs of the past which have led to so many failed estates — namely badly oriented buildings, too tight windows, low ceilings, small spaces and lack of storage.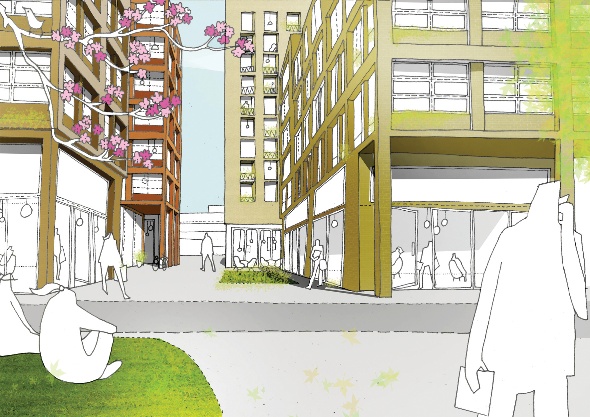 "We're working with residents to ensure there's a generosity put back into new housing," he says. "A lot of residents are there for life. It's their one opportunity to live in a nice home… Designing housing is quite a simple process. It's about getting the principles right from day one and if that requires a degree of masterplanning, that has to happen."
On projects such as the recently completed brick-clad Bridport House on the Colville Estate in Hackney, one of his top priorities has been ensuring that buildings are robust and age gracefully. Instead of experimental lightweight systems, he advocates well-proportioned buildings that are built to last with a simple palette of good quality materials done well.
"There's a lot of discussion about innovation. But more often than not it's about working with things that work well and doing them better. Building to as high a quality as possible is fundamental. It has to last."
Winning RIBA, Civic Trust and Housing Design awards for Claredale Street in 2011 raised the practice's profile and its workload is looking healthy. As well as further projects on the Colville Estate, work includes the five to 13 storey Faircharm Creative Quarter in Deptford, a feasibility study to revive a 1960s housing estate in Gospel Oak and an 80-home scheme for Brentford Lock West as part of a competition-winning collaboration with Duggan Morris and Riches Hawley Mikhail.
Karakusevic is delighted with the kind of work the practice's growing reputation has brought and hopes for much more of the same: "It's so exciting to be given these brilliant opportunities. We'd be very happy to have more of these and see them through."
Reference points
Biggest influences
Hans Kollhoff, early years of Herzog & de Meuron, Wiel Arets, Sanaa.
Favourite housing scheme
Probably the Piraeus Building by Hans Kollhoff in Amsterdam.
Dream commission
A housing project with ambitious public clients and engaged residents built by a great contractor.