Cottrell & Vermeulen: 'Schools are fantastic to work on'
Cottrell & Vermeulen's enthusiasm led it to an unplanned specialism
We don't have a business plan. We're happy getting work where we can get work and doing it to the best of our ability," says Richard Cottrell of the practice he co-founded 20 years ago with Brian Vermeulen.
While this may sound a little unfocused, the reality is that Cottrell & Vermeulen has steadily built up an enviable expertise in the education sector from nursery to secondary school with notable award-winning projects such as the Cardboard Building at Westborough Primary School and the Krishna-Avanti Primary School in Harrow. The practice won the BD Education Architect of the Year award in 2011.
Yet the partners say they never intended to specialise when they set up together after meeting on the restoration of Le Corbusier's Unité d'Habitation in Briey, France. But they did know that they didn't want to design offices or private housing and their first project was for a church — another area of expertise.
"There was no desire to be school architects but schools are fantastic typologies to work on. Schools are very positive," says Cottrell. "It's such a diverse sector that you don't get bored, and the clients tend to be very creative."
Although at 14-strong a little smaller than at the peak of the BSF boom, when it had multiple education projects in Birmingham and Southwark, the south London practice is now in the happy position of winning substantial new school work plus repeat business from long-standing clients such as Westborough, where it has worked for nearly 20 years. Recent work includes a new sixth form and assembly hall for Brentwood School, and the Sacred Heart and Notre Dame RC Girls schools in Southwark.
"Now we're at a stage where we have projects that we can sink our teeth into," says Cottrell, the more vocal of the two founding directors. Simon Tucker became the third director in 2003.
It's clear that they enjoy the intense collaborative process of school and religious work. Vermeulen has been shadowing a client for a potential new temple to understand the routine of worship and building needs.
"We fell into working in certain sectors but it was natural that we'd do that kind of work because we're able to empathise and be successful in that kind of project," says Cottrell.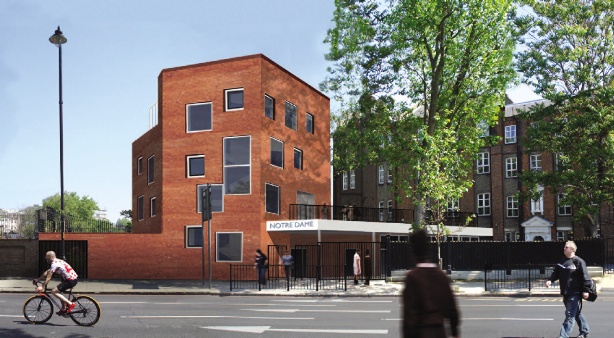 The firm has a pragmatic attitude to the austerity of the post-BSF education scene. "Whatever the system is, you have to work with it," says Cottrell. He is clear too that particular models should come out of conversations with the school, not be imposed. "There are so many different ways of designing schools. People like to think there is a right and a wrong way but I don't think there is. You have to look at what's right for the school."
The firm values its continuity at Westborough in Westcliff-on-Sea, where it put together two 10-year development plans as well as the Cardboard Building, which still attracts worldwide interest 10 years on. "This year we're doing a zero-carbon refurbishment, which means demolishing the first projects we did there," says Cottrell.
The origami-inspired building established the practice's sustainability credentials early on; it has also been notable for an approach to external rooms that can be part of both learning and play environments.
"What's often overlooked is the idea of sustainable community," says Vermeulen. "You can do the most sustainable building in the world but if the community hasn't bought into it [it won't work]."
At Westborough, for example, where the children are involved in energy monitoring, the hope is to cut carbon usage by 60%.
With its client-led consultative approach, the practice is comfortable about having no one particular style. Recent projects, however, have explored an interest in brick and pattern, most notably at Brentwood and Notre Dame schools.
"Southwark is very keen for buildings with robustness and practicality that brick brings. We're definitely in a brick phase."
The practice is now working on housing at Clare College Cambridge and children's spaces at the New Royal London Hospital as well as religious projects, but after 20 years, education projects remain its bedrock, especially those with scope for fruitful client consultation.
"It's nice to have bigger budgets and deal with bigger and different issues. [But] the West-borough type of project is where we'd go home to," says Cottrell.
Schools curriculum
Most admired
Jean Prouvé's school at Vantoux (1950); the Clasp schools programme (1955 onwards).
Big break
Westborough Primary School in Essex, where we had the opportunity to share a vision for a sustainable school with the client.
Dream commission
A sustainable eco school in Zambia [where Brian Vermeulen was born].