Alsop quits practice 'to spend more time painting'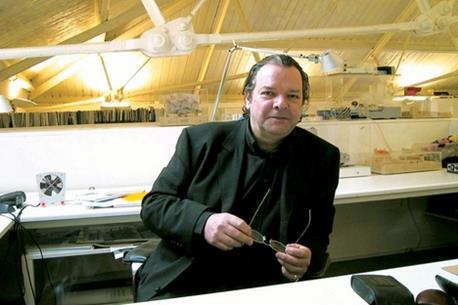 Archial says deal is good for both sides with Stirling Prize winner still a consultant
British architecture's most colourful personality, Will Alsop, is to leave the practice that bears his name in a dramatic cutting of ties with parent company Archial.
Following 30 years of running a private practice, the 61-year-old has told BD that he will shortly hand over day-to-day management of Battersea-based Alsop to others, in order to devote more time to painting and teaching.
While the Stirling Prize winner will continue to act as a part-time consultant to Archial, his latest manoeuvre has already prompted speculation that he could eventually re-establish an independent outfit.
This is despite a show of solidarity from Alsop and Chris Littlemore, chief executive of Archial, a listed firm which retains full ownership of the Alsop division.
"I'm leaving Alsop but will be becoming a consultant [to the firm]," Alsop said: "I will still be associated with their projects and the promotion of new work."
Littlemore added that the latest arrangement was positive for both parties and would see Alsop's continued involvement in major projects while allowing other leading lights at Alsop to develop under the eye of its founder.
But Richard Rogers Partnership founding partner Marco Goldschmied – who made an aborted attempt to extract Alsop's practice from the then SMC Group in 2007 – claimed the parent company was kidding itself.
"I'm delighted that Will has finally cut the knot with his slavemasters," Goldschmied said. "But I can't imagine that any client would be fooled with Archial's retention of the name.
"I also can't imagine a world without Will Alsop running a practice in some form or another… and I would expect [his long-term colleagues] to migrate [to join him] in due course."
Under the new deal, control of the Alsop division will pass to managing director Duncan Macaulay and other directors including Jonathan Leah and Max Titchmarsh.
Alsop insisted he remained "devoted" to the practice.
"I started the fucking thing and it's got my name on it," he said. "I want to make sure the work is still as challenging and exciting as it should be."
He added that, along with teaching at Ryerson University in Toronto and the Technical University in Vienna, he now intended to spend two days a week or more painting.
"It's a serious inquiry into painting," he said. "It would be nice to think it would contribute to the coffers but I'm not doing it for financial reasons… this will make me happier.
"Whatever age you are, you shouldn't be afraid to make changes to your life."
Long-term collaborator and director of Fat, Sean Griffiths, said he believed the growing frustrations of being a creative architect, particularly in a recession, had taken their toll.
"It's becoming more and more difficult to do architecture on middle ranking projects like schools and offices," he said. "Building anything is so project management-driven and the scope for doing what we all love – designing – is becoming minimal.
Full statement from Archial
Archial Group Plc ("Archial" or the "Group"), the architects and design business announces that Will Alsop, is to take on a new consultancy role within the Archial Group to be effective immediately.
This will allow Will Alsop the opportunity of pursuing other ventures outside the Plc, in addition to his contribution to his current delivery on behalf of the organisation. This new consultancy with the Archial Group will ensure that his input on current and future projects is maintained.
Chris Littlemore CEO of Archial commented:
"We look forward to continuing the Group's relationship with Will in this new consultancy role and maintaining an ongoing relationship with Will.
The business of Alsop (Consultants) Ltd which is wholly owned by the Archial Group Plc has a highly skilled and dedicated team working on a multitude of projects in its own right as an operating business but also with the larger Archial Architects Ltd business in many locations throughout the UK and Internationally.
The business continues to develop and be involved in a wide variety of individual, iconic and interesting projects. We look forward to continuing to work with the team going forward and are confident that the business will continue to deliver outstanding service and lasting value for clients."
Alsop's five-year battle for freedom
October 2004 – Alsop Architects goes into administration prompting a 40% share in practice to be sold to venture capitalist R Capital.
March 2006 – Alsop Architects bought by SMC in £1.8 million deal
May 2007
– SMC founder Stewart McColl resigns following profit warnings and an internal review
September 2007 – SMC reports losses of £4.5 million
October 2007 – Alsop launches ill-fated bid for independence with the help of Marco Goldschmied
October 2007 – Closure of Alsop's Toronto office by SMC revealed
April 2008 – SMC reports turnaround, citing Alsop as a key part of the business
December 2008 – SMC becomes Archial, Alsop SMC becomes Alsop