AA hits back at Wickham allegations
Brett Steele said resignation letter is a "baseless attack"
The Architectural Association has hit back in its spat with former council member Julyan Wickham.
Wickham resigned at the start of the week after complaining that the school was being run by a "cabal" that was, he claimed, "hell bent on undermining the future of the AA, with its long-held and good reputation as an institution of independent spirit and excellent values in architecture".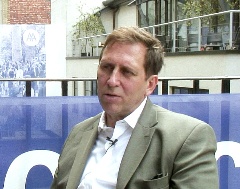 But AA director Brett Steele told BD that Wickham's five page resignation letter amounted to a "baseless attack" on the school.
"The letter contains many fabrications, gross exaggerations and baseless attacks on the considerable good work and activities underway at the AA today," he said.
"The AA council is a democratic body with 18 elected councillors and it is unfortunate in the extreme that Mr Wickham has repeatedly defamed and denigrated their work simply because they do not share his point of view."
Steele added that Wickham had resigned from the AA council before, during a previous time as a councillor. "It too was a period in which Mr Wickham frequently disagreed with the direction the AA was pursuing then," he said.
Wickham's resignation letter included a number of allegations in which he accused senior figures at the AA of "misleading" members and trustees.
Wickham, who runs Wickham van Eyck Architects, claimed there was a "lack of competent control of the AA's finances" after the school was caught up in an alleged fraud involving leased office equipment, which it has admitted could cost it up to £5.5 million.