Posted by: david rogers
2 August 2012
Perhaps Peter Murray will get bundled out of the Olympics after all.
On Monday morning, the chairman of New London Architecture wore a T shirt belting out the names of the architects and engineers who helped build the 2012 Olympic Games venues.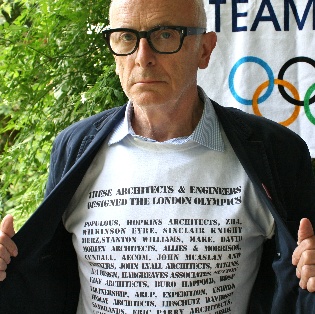 Murray has consistently highlighted the organising committee's iron fist rules on firms being allowed to use their involvement in the Olympics on any promotional material.
It might be a protest that can be easily dismissed – everyone knows who designed the aquatics centre so what's the problem? runs the argument – but most aren't so well known that their business is often just referred to by their first name.
It seems ludicrous that business briefings are being held to promote British architecture during the games, like the one Murray attended today, but those firms who worked on 2012 aren't allowed to say they did so.
The official line is that sponsors hand over their cash and are therefore are entitled to get first dibs on the promotional spin-offs. Fair enough. And, anyway, architects knew what they were getting into. To which, the counter is: if they hadn't signed up, they wouldn't have got the job.
But Danny Boyle's opening ceremony show on Friday night was about promoting the best of Britain. Most agree it worked. Why can't the British architects do the same? It's madness that they're not allowed to.
So, Murray's ongoing campaign – and he's due at the Excel for the table tennis tomorrow – might be wearing a bit thin for some but fair play to him. He's giving it a go and highlighting how absurd the rules are.