Inside the Yo!Home
Could you live the Yo! lifestyle?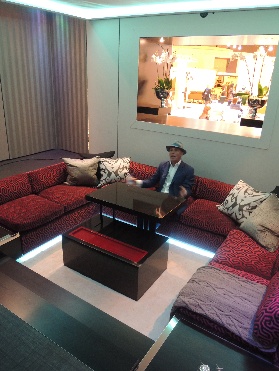 Simon Woodroffe, the man behind YO!Sushi and YO!tel, has unveiled his latest venture: YO!Home. He promises a 'pioneering and intuitive living space' that will 'revolutionise contemporary homes'.
The single apartment, made up of 12 moving parts, is Woodroffe's answer to rising house prices in city centres. The set-up relies heavily on the mechanics of stage scenery - many of Woodroffe's engineers and craftsmen worked on the Olympic opening and closing ceremonies. A bedroom that rises up to reveal a sunken sitting room, a dining suite in the floor and a shower that hovers over a bath; all of these are supposed to compensate for the lack of space in most new urban homes.
Woodroffe believes that within two years, whole towers of YO!Homes will be available at approximately 20% more than the average one bedroom flat. Although he says, buyers wont have to spend on furniture as they can chose from the Gucci, Philippe Stark or County Kitchen look.
Despite Woodroffe's pride in the use of stage technology, it is perhaps too effective – the prototype shown at 100% Design felt hollow, like a stage set. Woodroffe says our homes are 'our refuge and our rock', but you don't expect your rock to suddenly flip out from under you and turn into your photocopier.
There is another flaw in the project - each flat will need a very deep false floor and ceiling to accomodate all the rising, falling and sunken fittings. If developed it may work in specifically built YO!blocks, but it would be very difficult to translate into existing buildings.
However, Woodroffe isn't particularly interested in answering challenging questions about his new baby. He believes that his prototype gives a glimpse into what is to come and that it is such an obvious idea he can't believe it hasn't already been done, and predicts that this sort of mechanized space-saving will be the norm in the future, wiping out 'primitive homes that don't move'.